Angel Reese, NCAA's Star Women's Basketball Player, To Debut In SI Swimsuit
The LSU sophomore will trade her basketball shoes in for a bikini in the upcoming edition.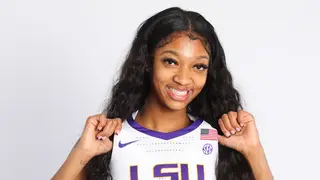 Months after becoming the star attraction of the 2023 NCAA Women's Basketball Tournament, LSU sophomore forward Angel Reese is now a swimsuit model.
The "Bayou Barbie" will make her debut in the 2023 SI Swimsuit issue that is set to be released on May 12.
MJ Day, the editor-in-chief of SI Swimsuit, shared her excitement about collaborating with Reese, who was photographed in Los Angeles in April.
"Angel Reese is a phenomenal basketball player," Day recalled. "She's an All- American and was named the Most Outstanding Player of the NCAA women's basketball tournament. While we're of course here to celebrate her incredible achievements and athleticism, it wouldn't be an SI Swimsuit moment if we weren't shining a light on Angel's achievements off the court."
"Caitlin and I are cool," Reese says. "It's just being able to force people to accept that women can talk trash. The women's side gets penalized for it, or we're considered as not being ladylike and that we're not playing by the rules. We work just as hard as the men. Women can be who we are. Women can be competitive."
The 21-year-old also shared her thoughts about making an imprint on women's basketball and the continuing growth of the sport.
Reese's popularity skyrocketed after leading the Tigers to their first NCAA championship where she was named the tournament's Most Outstanding Player. Capping off a stellar year, she was a unanimous first-team All-American selection, set an NCAA single-season record in double-doubles, and she holds the single-season record in rebounds for the SEC.
Reese has one more year of collegiate basketball before she's eligible to enter the WNBA draft where she is expected to be a top pick in 2024.