Angel Reese Says Drake And Future Slid Into Her DMs After NCAA Win
The LSU star became a household name when she led her team to a historic national championship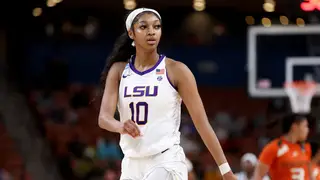 LSU star Angel Reese stopped by The Breakfast Club to talk about how her life has changed since she led her team to a historic NCAA Championship win. On the show, the 20-year-old forward shared that she got a few surprising DM messages.
According to Complex, Reese revealed that Drake and Future have slid into her DMs. "You said two that you need to stay far away from," Charlamagne tha God joked.
Reese and teammate Flau'jae Johnson both clarified that the multi-platinum rappers just offered congratulations. "They just congratulated me. It's all congratulations," Reese said with a smile.
Still, the idea earned a few more jokes from The Breakfast Club hosts. "Then Drake gonna say, 'Yo, you know I got a basketball court at the crib?' Did he say that yet?" DJ Envy asked. Reese and Johnson exchanged a knowing glance and broke out in laughter while declining to answer the question.
On April 2, LSU trounced Iowa 102-85, the win came with controversy as Reese used Caitlin Clark's "can't see me" gesture and was criticized for what people deemed as a lack of sportsmanship.
She was subjected to racist and sexist attacks on social media, fortunately, superstars from Shaquille O'Neal to Jemele Hill to LeBron James came to Reese's defense against the trolls.
Reese has remained firm in her focus on basketball. During The Breakfast Club interview she responded to Shaquille O'Neal calling her the best athlete to come out of LSU, his alma mater.
"Another championship is what's going to hold weight, because I feel like I'm getting the Joe Burrow treatment up there," Reese said, according to Sports Illustrated. "I feel like I'm getting that type of treatment. But, another championship, maybe a player of the year would hold some more weight."
Reese's success has come with financial benefits too. Reese, also known as Bayou Barbie,  is one of the NCAA's highest-grossing NIL players with a value of over $1.5 million.