Charlamagne Tha God Goes in on Kodak Black for His Comments About Black Women
Spot on.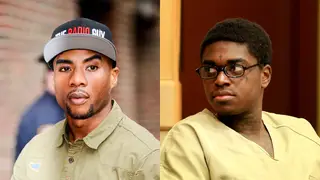 One-third of The Breakfast Club trio Charlamagne Tha God and his "Donkey of the Day" segments have long been known for ruffling feathers and riling up even the most mildly tempered listeners.
So when Florida rapper Kodak Black aired his inflammatory comments on Black women, specifically dark-skinned Black women, Charlamagne took hilarious honor in pinning the tail on the Project Baby donkey this time around. 
During yet another one of his infamous Instagram Live sessions, Kodak shared his thoughts on dating Black women when one fan dropped a question on whether he'd date triple threat dancer, singer and actress Keke Palmer. After replying that she's "straight" but he "don't really like Black girls like that," the 20-year-old's Instagram comment section immediately went up in flames. Thereafter, Kodak ducked the fire and deleted his Instagram. But, not without a rather perplexing response to the criticism, declaring that he meant women who were of his skin complexion or darker. *scratches head in confusion*
Now that he's made it to the dark side of Black Twitter and pretty much Black women everywhere, Charlamagne has stepped in with a few reminders and guidelines for the Project Baby. After the Breakfast Club host attempted to clarify Kodak's comments, explaining that he understood Kodak meant complexion and not race in terms of his preference, Charlamagne warned him of the consequences for his anti-Black women commentary.
"If it's one entity you don't want no drama with in this era, it's Black women," he said. "You don't want those problems. You don't know what true slander is on social media until you piss off a group like Black women and they swarm like Wu-Tang killer bees on your Black a**."
Later on in the segment, Charlamagne hit play on Kodak's aforementioned response and pointed out a hilarious comparison.
"Why Kodak Black sound like lawn equipment?" he said of Kodak's voice in the response video. "You know how you'll be in the house and you can tell people are working on the lawn?"
Admittedly, Charlamagne's imitation and comparison of the "Tunnel Vision" rapper's voice are hilariously accurate. So were his follow-up sentiments, where he reminded Kodak that Black women are "A-OK" without his desire for them, and the cowardly thing to do was delete Instagram after making the comments.
"You can be honest and wrong," Charlamagne concluded. "But what I don't respect is when people run. Kodak, you ran. Get on social media and take this L from Black women. I didn't delete my account when I pissed Black women off, French Montana didn't delete his account when he pissed Black women off, so you can't delete yours either."
Listen to Charlamagne's complete sound-off on the Project Baby in the video below.