DJ Khaled Shares How Son Asahd Inspires His Style
The hitmaking producer says his 6-year-old son is his style inspiration.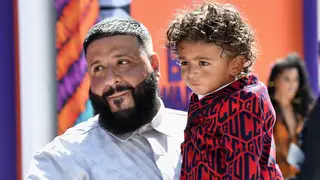 DJ Khaled has made hit records for almost every hip-hop icon. The Grammy Award-winning producer recently shared that he finds inspiration close to home.
Khaled, 47, says that when it comes to his personal style, he is currently getting inspiration from his eldest son, Asahd—age 6.
When asked by PEOPLE who is influencing his personal style, he responded, "Style-wise, I would have to say my son Asahd."
"But no, I'm for real," he asserts. "Every morning [he] wakes me up with a pair of sneakers and he tells me these are the sneakers he's going to wear. Or he'll grab one of my sneakers that he doesn't have and say he wants to get it."
Khaled went on to rave about his son, saying, "My son is 6 years old, and how deep he is into sneaker culture is so amazing and I think it's so beautiful."
The hitmaker said that it isn't just his sneaker choices that Asahd inspires, "The young kids, they're the geniuses," he says. "They're the future. So I always go to the younger generation for inspiration from fashion, style, and even music."
Khaled is a 10-time Grammy-nominated producer who says he loves making music for everybody but loves it most when his sons Asahd and Aalam, 3, enjoy it.
"I always get the beautiful energy knowing if the kids love it," he told PEOPLE. "Like my son, I play my music to him all the time, he loves it."
"The young generation run the world, which is beautiful," he adds.
Khaled recently opened a sneaker store with Snipes called,  We the Best x SNIPES.
Per PEOPLE, the concept was the brainchild of Khaled and Snipes CEO, Sven Voth.  According to Voth, the idea for the Miami location "popped up quite immediately" after the brand began working with Khaled, who, shortly after a 2019 SNIPES campaign, clicked with the company and came aboard as chief creative officer.
"I'm taking everything so serious," the producer told PEOPLE. "This is very special [and] unique, but what I love about it is it's something that the city's going to love — the young world's going to love."