Giuliana Rancic's Zendaya Comment Approved by Black Producer
Plus, Melissa Rivers shares #TBT pic of the star and Joan.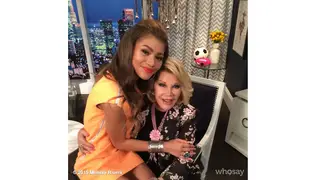 Giuliana Rancic is facing major backlash — and possibly the loss of her job — over a snarky comment she made about Zendaya's locs on the Oscars episode of Fashion Police, but it turns out that the E! host didn't write the offensive joke on her own. In fact, the entire segment was pre-taped and the final edit approved by the show's senior producer, a Black man.
On Thursday night's edition of Access Hollywood, Billy Bush said he reached out to Rancic about what really happened behind the scenes during that fateful taping. Rancic denied a rumor about how the segment – in which she said Zendaya looked like she smelled of "weed" and "patchouli" because of her dreadlocks – was taped three times. 
"They did the show all the way through," Bush said. "Like any show, you nip and tuck it [later] to fit it into one hour. None of those segments were done multiple times." 
TWEET SHEET: CELEBS SUPPORT ZENDAYA
Bush also said Rancic denied writing the joke. Bush "made some calls" and learned that it was penned by a Fashion Police writer who originally wanted to include a follow-up crack about Zendaya "going on tour with the Grateful Dead," Bush explained. 
"That joke was a written joke, which means, a lot of people involved and nobody saw racism in this at all," Bush said. "I don't think they would have put it on the air several hours later if there was." 
Despite the seemingly collaborative nature of the offense, so far Rancic is the only one to publicly take the blame. The incident has reportedly caused a huge rift among E! personalities, with co-host Kelly Osbourne threatening to quit if apologies were not made. On Thursday, Fashion Police producer Melissa Rivers praised Zendaya's response to the remark and shared a throwback pic of the 18-year-old star with her mother Joan Rivers, who hosted Fashion Police until her death last September.
BET.com is your #1 source for Black celebrity news, photos, exclusive videos and all the latest in the world of hip hop and R&B music.
Click here to subscribe to our newsletter.

(Photo: Melissa Rivers via Instagram)