This Powerful Poem About Cultural Appropriation Calls Out Kylie Jenner
And leaves no stone unturned.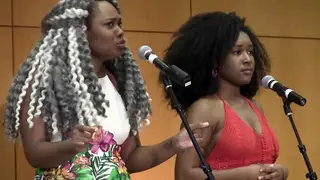 Crystal Valentine and Aaliyah Jihad are two of the top slam poets in the country, with loads of accolades and honors. The NYU students won a major competition in 2015 with their poem "To Be Black and Woman and Alive," and at the time, BET.com wrote it "can help get us one necessary step closer to a reality in which all Black lives do, indeed, matter." And the next summer, Valentine and Jihad released "Hide Your Shea Butter," a scorched-earth read on cultural appropriation, which feels just as relevant now as it did then (if not more so). The poem is heartbreaking, funny and all too real, and it's completely worth watching in its entirety — and maybe also worth sending to any white friend who doesn't see the problem with "boxer braids."
"Kylie Jenner has been slipping into the back of your BSU meetings," the poem starts. "And importing your cookout playlist while you were in the shower and checking your YouTube history when you go to sleep. Kylie Jenner is turning into a Black woman right before our eyes. She's been taking notes, made a cheat sheet and shared it with her besties. And it is time we defend ourselves."
The poem goes on to specifically describe what and how white people have stolen from Black culture and why it hurts. Columbusing remains as popular as ever and Valentine and Jihad are prepared to fight back.
"No more giving away our secrets," they say. "When you invite your white friends over, hide your shea butter. Hide your coconut oil and hide your loc gel. Let those white dreads unravel."
In an especially entertaining moment, they reference Rachel Dolezal. "Rachel Dolezal stole fourteen black years and we have yet to retrieve them," the say. "Do you know how many white years that adds up to? This b***h supposed to be 87!"
They go on to get to the heart of what's really wrong with cultural appropriation. "It's not just that you take what we create," say Valentine and Jihad. "It's that it always gets lost in translation. I say Bantu knots. You give me mini buns. I say cornrows. You give me boxer braids. I say hip-hop. You give me Macklemore. I say nae-nae. You give me Hillary Clinton on Ellen. I say n***a, you say n***a."
"This has never been a conversation," they continue. "It's been a s**tty game of telephone."
The end of the poem includes it's most gut-wrenching line. "It's not that we don't trust white people," they say. "It's that y'all think my Black looks better on you. It's that you've called me a racist more times than you've called Darren Wilson a murderer."
Check out more from Valentine, Jihad and more poets here.