Rappers Weigh in on Chris Brown and Soulja Boy's Beef
Let this be a lesson.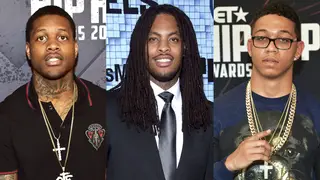 Inevitably, it also left the two men on open season for the rest of hip-hop, and they certainly didn't miss their chance to let the feud be a teaching moment for all rappers. 
Atlanta's wild boy Waka Flocka Flame was among the first to share his unsubtle sentiments on the feud, and reminded everyone that cash checks aren't the only kind of checks some rappers should be bragging about.
"I love seeing rappers get a reality check," Waka wrote in a tweet. Reinforcing the message, he stocked a couple of re-tweets of Soulja Boy's hood blooper on his time line as well.
Waka's fellow Atlanta rap representative Lil' Scrappy offered up thoughts that pretty much coordinated with Waka's as well. Dubbing "Internet Gangstaz" as the premise beneath his opinion, Scrap gave some guidelines on what he feels real men do in such situations.
"Man, what's up with all this Instagram beef, shawty?" he began in the Instagram video. "N**gas got money. You can fly on a jet, tell a n**ga meet you in the middle of the country somewhere, and you and the homies, all y'all suit up and throw paws man. Do what you gotta do."
He went on to explain that trying to prove your "gangsta" via social media is nothing more than a one-way ticket for a knockout. The "Money in the Bank" rapper's directive is simple: pull up, or don't say anything at all.  
"Real men get down where they get mad at, let's be clear, ain't no paws on line, ya feel me?" he said in the Instagram video's caption. "Just get to the money, take care of your people, don't let a sucka duck trick you off the street, ya feel me?"
Bringing in a comedic relief came Lil Bibby and Lil Durk. Commencing a new twist on the former Soulja Boy challenge that was inspired by his VladTV interview, Lil Durk reenacts the video of Soulja's journey through Compton. Though his hilarious portrayal of the incident doesn't quite make it to the camera-drop from SB's video, he made sure to nail the key moment where the individual throws Soulja's friendly arm off of his shoulders. Bibby, however, isn't letting his chance to place bids on a Soulja Boy-Chris Brown fighting match slide by.
"Gone ahead, man, catch that fade," he said in his Instagram video. "I got 30 on Breezy, catch that fade. Big Draco [Soulja Boy] go catch that fade." He made sure to remind everyone in the caption that there's no hard feelings against SB, but he's got his money on Brown.
What a way to kick off 2017, right?
Check out hip-hop's reactions below.