LIVE UPDATES: Ketanji Brown Jackson's Senate Confirmation Hearing
The federal appellate judge is facing questions from senators as she moves toward replacing Justice Steven Breyer. Check here for updates in the congressional procedures.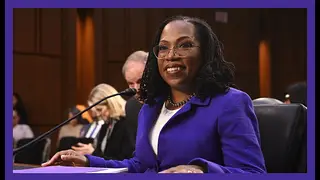 U.S. Court of Appeals Judge Ketanji Brown Jackson begins a four-day hearing process on Monday (March 21) that will determine if she will sit on the Supreme Court. President Biden announced her nomination on Feb. 25, keeping with a pledge that he would nominate a Black woman to the bench.
If confirmed, Jackson, 51, would be the sixth woman to serve on the high court and the first Black woman to do so. She would also be one of two Black people serving, the other being Justice Clarence Thomas.
Senate procedures were set to begin at 11 a.m. ET. BET.com will be live blogging the confirmation hearings with frequent updates. CBS News will also stream the procedures as they progress.
Judge Ketanji Brown Jackson, began the first historic step in the process of being confirmed to the U.S. Supreme Court by offering an opening statement to the Senate. She started with her background, including her parents journey from the segregated south, to Washington and back to the south, where her father studied law.
She said that she was grateful for "the confidence that President Biden has placed in me." She also invoked her faith, saying "it is faith that sustains me at this moment. Even prior to today, I can honestly say that my life had been blessed beyond measure."
She introduced her husband Dr. Patrick Jackson, who joined her parents, brother, and children at the hearings. As well as gave thanks to her introducer, her Harvard College and Harvard Law School roommate, Lisa Fairfax, who is now co-director of the Institute for Law & Economics at the University of Pennsylvania Carey Law School.
She also thanked retiring Supreme Court Justice Stephen Breyer, who she will replace if confirmed. Earlier in her career, she clerked for him. "Justice Breyer...not only gave me the greatest job that any young lawyer could ever hope to have," she said, "but he also exemplifies what it means to be a Supreme Court justice of the highest level of skill and integrity, civility and grace.
"It is extremely humbling to be considered for Justice Breyer's seat and I know that I could never fill his shoes," she continued. "But if confirmed, I would hope to carry on his spirit."
Jackson met with the entire Senate Judiciary Committee and a total of 45 legislators prior to the beginning of the hearing. Starting Tuesday (March 22) at 9 a.m., the committee members will begin their questioning and will offer Jackson the opportunity to respond. Although she has support among both Democrats and Republicans, some on the GOP side are expected to oppose her nomination and will likely ask some of the toughest questions.
After a brief recess, Republican Sen. Josh Hawley of Missouri opened his statement by mentioning what he says were lenient sentences handed down by Jackson to child sex offenders. He noted seven incidences of sentences in cases prosecuted over child pornography that conservative opponents say were below federal guidelines.
"What concerns me is that in every case … she handed down a lenient sentence below what the federal guidelines recommended and below what prosecutors recommended," said Hawley. "I think there is a lot to talk about there, and I look forward to talking about it....I'm not interested in trapping Judge Jackson, I'm interested in her answers."
California Sen. Diane Feinstein, who has been a part of nine different Supreme Court confirmation hearings in her tenure noted in her opening statement how the issues facing the Supreme Court in its coming sessions, including gun regulations, abortion rights and climate change. 
But she also acknowledged the historic moment in which Jackson stands. "It's clear you have the qualifications, and the experience and the knowledge needed to serve on the Supreme Court," Feinstein said. "And as a woman, it makes me very proud of that."
Although Senate Democrats are in support of Jackson, Republicans have already said that they plan on heavily scrutinizing her through the process, which is not to be unexpected.  "We won't try to turn this into a spectacle based on alleged process fouls," said Iowa Sen. Chuck Grassley. "Unlike the start to the Kavanaugh hearings, we didn't have repeated, choreographed interruptions of Chairman Durbin during his opening statement like Democrats interrupted me for more than an hour during my opening statement at the Kavanaugh hearing."
"As has been widely reported, this President had a deep bench of brilliant, highly qualified jurists and attorneys from which to choose his nominees for the Supreme Court. Out of a stellar list of potential nominees were federal and state judges from all corners of our country, former law clerks with legal experience in the district appellate and Supreme Court level, noted law professors from public and private institutions, partners in prominent law firms, federal, state and local prosecutors and public defenders as well as the United States Department of Justice alumni, many of whom graduated from some of the best private and public law schools in our nation. He chose an amazing woman from that list. And by the way, all of them had those characteristics. 
As a Black woman lawyer, I could not be more thrilled. Judge Ketanji Brown Jackson has the combination of outstanding credentials, character and lived experience and she is more than worthy of a lifetime appointment to our highest court.––Star Jones, Attorney, Author, Host, NAACP Watch Party
The hearings have begun. Judge Jackson was introduced by Judge Thomas Griffith, former judge of the U.S. Court of Appeals for the District of Columbia Circuit, and Lisa Fairfax, professor at the University of Pennsylvania Carey Law School.
Her husband, Patrick, her two daughters, Talia and Lelia, and her parents, Johnny Brown and Ellery Brown, are all in attendance.
Opening remarks were started by Democratic Illinois Sen. Dick Durbin, chairman of the Senate Judiciary Committee, and by Republican Sen. Chuck Grassley of Iowa, who is ranking member of the Senate Judiciary Committee.
Senators will have 10 minutes to make opening statements before Jackson makes her own opener.