Biden To Nominate Ketanji Brown Jackson As First Black Woman Supreme Court Justice
The president vowed to select a Black woman if the opportunity opened.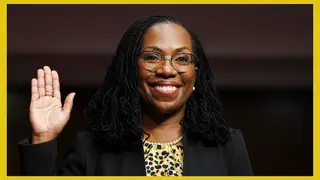 In an historic nomination, President Joe Biden chose U.S. federal appeals court judge Ketanji Brown Jackson to serve on the U.S. Supreme Court, CNN reports, citing an unidentified source. If confirmed, Jackson would become the first Black woman to sit on the bench of the nation's highest court.
Jackson would fill a vacancy when Justice Stephen Breyer retires after the current Supreme Court term. During his campaign, Biden pledged to put a Black woman in the position should it become available.
"I'm pleased to nominate Judge Jackson who will bring extraordinary qualifications, deep experience in intellect and rigorous judicial record to the court. Judge Jackson deserves to be confirmed as the next justice of the Supreme Court," Biden said later on Friday when he introduced Jackson.
Biden urged the Senate to "promptly" confirm Jackson, adding that he has already taken the initial step of sitting down with Senate Judiciary Committee leaders.
"I met with the chairman and ranking members of the Senate Judiciary Committee, Sen. Dick Durbin, Sen. Chuck Grassley and my hope is that they will move promptly and I know they'll move fairly," the president stated.

Shortly after Biden's official announcement on Friday, Jackson, followed him by giving thanks for her journey to this point in her life and career.

"My life has been blessed beyond measure," she said. "And I do know that one can only come this far by faith."
Currently, Jackson, 51, is a judge in the D.C. Circuit Court of Appeals DC's  and was a federal public defender. Early in her career, she clerked for Breyer.
Biden's official announcement Friday afternoon begins a confirmation process through the Senate Judiciary Committee.
Biden and Jackson must navigate the nomination through a politically polarized Senate. During her confirmation hearings last year for a seat on the D.C. Circuit Court of Appeals, Senate Republicans took aim at her 2019 decision as a federal district judge to order former President Donald Trump's counsel Don McGahn to testify before a Democratic-led House committee, according to The Hill.

As an appellate judge, she joined in a unanimous three-judge panel to reject Trump's attempt to block the House committee investigating the Jan. 6 insurrection from obtaining his administration's records.
Democrats and Republicans each control 50 seats in the Senate, with Vice President Kamala Harris giving a tie-breaking vote. If GOP members oppose her nomination, Jackson would need the backing of all 50 Democrats. But in her confirmation to the appellate court, she was supported by every Democratic senator and three Republicans, Lindsey Graham, Lisa Murkowski and Susan Collins, each of whom will likely back her confirmation to the Supreme Court, according to Forbes.
If confirmed, the court will remain dominated by conservatives. However, Jackson is expected to bring a more progressive voice to the court's liberal wing, according to The Hill.