Anna Diop, Sterling K. Brown And More Black Hollywood Stars to Attend Sundance's MACRO Lodge
This year's featured event will be a virtual gathering of Black excellence.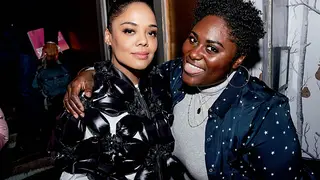 As this year's Sundance Film Festival will be all virtual, this messes up one of the main attractions to going — seeing all your favorite Black and beautiful stars in person.

The (Virtual) 5th Annual MACRO Lodge featured event is thankfully still taking place, albeit online, from Jan. 21-23, 2022, and can be seen by Sundance Film Festival goers and the general public at www.MACROLodge.com.

A cherished showcase of inclusivity and Black positivity, the iconic lodge will include appearances by Regina Hall, Sterling K. Brown, Rosie Perez, Anna Diop, Sinqua Walls, Anna Diop, Coodie & Chike, Nikyatu Jusu, Channing Dungey, Tonya Lewis Lee, and many more. 
The programming at the lodge, which promotes continued diversity and inclusion in Hollywood, will showcase activities done in partnership with Color of Change, Netflix, Warner Bros. Television, Lionsgate; and social justice organizations The Culture Change Fund and The BIG We.
Add to the mix that SheaMoisture is returning to be the premiere sponsor for the 5th Annual MACRO Lodge and this is a must-attend occasion for any true blue cinephile who wants to elevate the voices of Black and POC creators.

Check out the partial listing of the events available to attend below.
La Guerra Civil: A Conversation with Director/Producer Eva Longoria Bastón.  Moderated by Rosie Perez.  Presented by DAZN.
Detailed archival footage and enthusiastic interviews are featured in La Guerra Civil with Oscar De La Hoya, the charismatic golden boy from East LA and Mexican-born boxing legend Julio César Chávez to illuminate a story that transcends language, heritage and interests. Director Eva Longoria Bastón talks to Rosie Perez about her high-energy DAZN original documentary directorial debut that digs deep into the cultural significance of one of the biggest sports moments of the 1990s.
A Conversation with Channing Dungey, Chairman, Warner Bros. Television Group.  Moderated by Charles D. King, Founder & CEO, MACRO. Presented by Warner Bros. Television.
Warner Bros. Television Group Chairman Channing Dungey, one of the entertainment industry's top power brokers and decision makers, sits for an intimate fireside chat with MACRO's Charles D. King to discuss her journey in the business, the changing landscape of media and her vision for the future of entertainment.
Women of the Movement: Conversation with Creator, Showrunner and Executive Producer Marissa Jo Cerar and stars Cedric Joe, Tonya Pinkins, Glynn Turman and Ray Fisher. Moderated by Charisma C. Deberry, Director of Social Media, ESSENCE. Presented by ABC.
Cast members and creator, showrunner and EP, Marissa Jo Cerar will appear at the lodge to discuss Women of the Movement, the series which tells the story of Mamie Till-Mobley, who in 1955 risks her life to find justice after her son Emmett [Till] is brutally murdered in the Jim Crow South. Unwilling to let Emmett's murder disappear from the headlines, Mamie chooses to bear her pain to the world, emerging as an activist for justice. All six episodes of the ABC series are now available to stream on Hulu.
Pass The Mic: Centering Communities of Color in Climate Storytelling. Moderated by Favianna Rodriguez, President, The Center for Cultural Power.
Audience will observe an explorative conversation on how film and storytelling tools can help us center communities of color and find courage in the face of climate chaos. 
This powerful discussion will feature filmmakers and voices from the 2022 Sundance Film Festival film To The End as well grassroots leaders and cultural strategists at the forefront of cultural and social movements for climate justice. 
Panelists include Layel Camargo, Climate Storytelling Project; filmmakers Rachel Lears and Sabrian Schmidt Gordon; and Varshini Prakash, Executive Director of Sunrise Movement.