Wow: Charlie Sheen Might Be Headed to Prison
The actor was caught in a serious lie.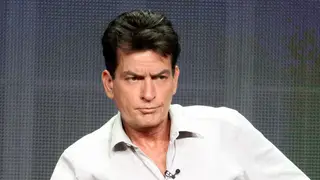 Charlie Sheen may serve some time behind bars as tape was recently released of him confessing to hiding his HIV-positive status from one of his lovers.
In the tapes, recorded by the former Two and a Half Men star's former sexual partners and obtained by RadarOnline.com, he not only admitted to having unprotected sex with the woman after knowing of his HIV-positive diagnosis, but also lied to her, telling her he was clean before intercourse.
When the woman confronted him about lying, asking why he didn't tell her he was HIV-positive, he shouted, "Because it's none of your f**king business, OK!"
When she added, "It was about, you were supposed to tell me," Charlie tried to justify himself, saying, "OK, well, every time I tell somebody, they f**king took money from my children and nothing happened to them, OK?"
Withholding such information from a lover can cost the actor his freedom, as California law makes it a crime to "willfully expose yourself to another person if you are afflicted with a disease that is contagious, infectious or communicable."
"It's the act of not informing them ahead of time that matters," added defense attorney Anthony Brooklier, who went on to also mention the Anger Management star could even face six months in county jail and a fine of $1,000 for each separate time he exposed the woman to the disease.
"Any reasonable analysis is he faces criminal liability because he didn't inform her of the infection," Brooklier said. "In fact, as the tapes show, he told her it was none of her business. But it is her business. It's her life."
Catch up on the Charlie Sheen controversy with BET Breaks below:
BET.com is your No. 1 source for Black celebrity news, photos, exclusive videos and all the latest in the world of hip hop and R&B music.