FBI Tracked Aretha Franklin's Relationships With MLK, Angela Davis, others, Documents Say
Agents kept a close eye on the R&B icon during the civil rights movement.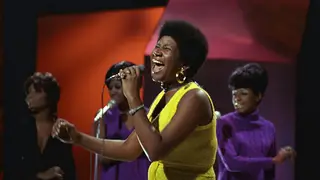 Recently declassified FBI documents on Aretha Franklin reveal that the agency monitored her relationships with civil rights leaders, including Martin Luther King Jr. and Angela Davis, as well as her interactions with organizations like the Black Panther Party and the Southern Leadership Conference (SCLC).
Journalist Jenn Dize tweeted Wednesday (Sept. 7) that she received the FBI files after she requested the documents "years ago" under the Freedom of Information Act.
Pitchfork reports that the FBI's notes on the singer's friendship with King document her performances at the SCLC, of which King was president, in Atlanta and Memphis in 1967 and 1968. The agency characterized the shows as "communist infiltration" events.
The FBI took note of Franklin's performance at a 1972 fundraiser in Los Angeles for Davis, a Black liberation activist. According to the file, the concert was sponsored by the National United Committee to Free Angela Davis, which the note said was "an organization founded by the Communist Party, United States of America."
Agents also kept an eye on her interactions with Black organizations that the FBI viewed as a national threat.

VIDEO: We Love Aretha Franklin
"Bobby Seale, Chairman of the Black Panther Party, has directed the Los Angeles Black Panther Party to initiate plans for a major rally culminating in free food distribution to the poor black people in Los Angeles. Source also advised that Gwen Goodloe wanted to contact Negro singing stars Aretha Franklin and Roberta Flack to possibly assist in the event," an entry in the record stated, according to Pitchfork.
The FBI also showed concern about Franklin's possible links to the Black Liberation Army, which the agency viewed as a "quasi-military group composed of small guerrilla units employing the tactics of urban guerrilla warfare against the established order with a view toward achieving revolutionary change in America." Eventually, the FBI concluded that it could not determine if the R&B icon was associated with the organization.
FBI documents also substantiated three death threats against Franklin. In one instance, an inmate in Cook County jail, posing as an FBI agent, tried to extort $1 million from her. The individual suggested that she would face consequences for not paying.
The file also documents details of a 2005 copyright infringement lawsuit stemming from a Yahoo! Groups message board. The case involved a self-proclaimed "anti-fanatic" who sold pirated CDs and DVDs of her performances.