Alek Wek Talks About Visiting South Sudan and Raising Awareness to Refugees' Plight
The supermodel visited her homeland this July.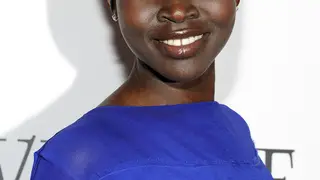 Alek Wek might have fled her warring nation of Sudan back in 1991, but she has never forgotten her people. The successful supermodel returned to her country last July for the first time since a peace treaty in 2005 finally brought an end to the decades-long civil war. As an advocate for the United Nations High Commissioner for Refugees, Wek traveled to what is now the Republic of South Sudan to bring awareness to the plights facing refugees that have returned to her homeland.
"I appreciate and have a tremendous amount of respect for organizations that I align myself with such as UNHCR. They don't just go there and just save lives," Wek told TheGrio.com. "They're not just like, 'We'll come and we'll take over.' They actually work alongside with the community. They actually encourage the community to empower themselves…which is the way to do it. The community doesn't want any handouts; they want to be self-sustained."
According to the UNHCR, there are approximately 510,000 refugees in South Sudan crowding camps and living without running water, sufficient food and proper medical care in a new nation, just a year old, still struggling to build its infrastructure.
"It's just one year," Wek said of her growing country. "You have to give a little bit of a pat on the back regarding just how much it's grown; but I think we need a lot of infrastructure to build a nation. You need all the other areas; you need the doctors, you need the lawyers, you need the teachers, you need the scientists; you need all the other aspects. That's why I gave an example of people coming back to the country. I try and play, in my small way, a role to help rebuild the community."
BET.com always gives you the latest fashion and beauty trends, tips and news. We are committed to bringing you the best of Black lifestyle and celebrity culture.