Jada Pinkett Smith's Mom Explains The Power Of White Privilege To Olivia Jade On 'Red Table Talk'
Adrienne Banfield Norris stands her ground, questioning why the style influencer chose to break her silence to three Black women about her parent's college admission scandal.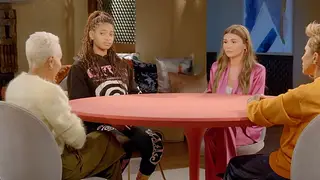 There have been many controversial, hot-button topics discussed and disclosed around the social media popularized red table between Jada Pinkett Smith, her mother Adrienne Banfield Norris (Gammy) and daughter Willow Smith over the course of this year. There may be none that brings the fire more than the guest featured on the latest episode of "Red Table Talk" airing on Tuesday, December 8 at 9am PT / 12pm ET on Facebook Watch.  
Each one of the ladies gets emotional about allowing beauty influencer Olivia Jade, youngest daughter of actress Lori Loughlin and designer Mossimo Giannulli, a platform to break her silence for the first time since her parents were caught in the college admissions fraud scheme that resulted in federal prison sentences.
Loughlin pled guilty to one count of conspiracy to commit wire and mail fraud and is currently serving a two-month prison sentence. Giannulli pled guilty to one count of conspiracy to commit wire and mail fraud and is serving a five-month sentence. They were exposed for illegally buying their way into boosting their two daughters' applications into University Of Southern California.   
With her parents in jail, Olivia Jade says she is finally ready to discuss how she has been impacted by their actions. "I know people go through way worse and I know that I'm just speaking from my personal experience. I'm still a human with feelings," she said. 
Except not everyone is so keen to accept her lament over losing her endorsements or her confession that she was oblivious to her  level of white privilege. Banfield Norris in particular spoke her mind, expressing a sentiment that likely resonates strongly with many in the Black community.
"I found it really ironic that she chose three Black women to reach out to for her redemption story," explained Banfield Norris. "I feel like, here we are, a white woman coming to Black women for support when we don't get the same from them. It bothers me on so many levels and her being here is the epitome of white privilege to me." 
On the other hand, Pinkett Smith takes a different approach explaining that she never wants to pigeon hole another woman in the way that white women have done to her in the past. Not only that, but as the mother of Willow, Jaden, and stepmother to Trey, all Black and privileged, Pinkett Smith says she can relate to what Olivia Jade has had to endure. Her attempt in inviting the 21-year old social media influencer is to change that attitude of negatively categorizing other human beings simply because she's white, young, and privileged. 
"This is a practice of compassion," explains Pinkett Smith who knows that not all fans of the show will agree with her opinion. "To me, this young girl is reaping the repercussions of the actions of her parents."
However Banfield Norris isn't buying it and adamantly states her discontent for Olivia Jade's participation in today's show. "At the end of the day, I really feel like, she [sic] gonna be ok and she's going to recover whether her ass was sitting at this table or not." Meanwhile, Willow admits she's "sitting between the truths" and sees both sides of the argument from her mother and grandmother's points of view.
All this heat didn't stop the YouTube star from coming out and sitting down with the ladies to tell her story. Admittingly nervous, she explains why she chose to break her silence at the "Red Table Talk," why she believes she deserves a second chance and what she has learned through this entire experience. 
Tune-in to Facebook Watch for an eye-opening episode of Red Table Talk on Tuesday, December 8 at 9am PT /12pm ET.