'We Dogs For Life!' Jadakiss Remembers DMX On The Anniversary Of His Death
After nearly 30 years of friendship, Kiss shares some of his favorite memories of X including details about an unreleased project.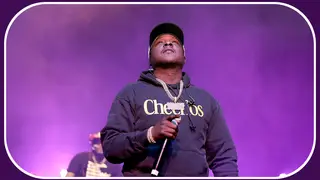 A year ago, the world of hip hop came to an abrupt halt after news that Earl "DMX" Simmons had passed away. The roar of the Dog has since been silenced but it will never be forgotten. Between his fans, his family, and mainly his children, DMX's legacy will endure for years to come but it's his brothers in music like Styles P, Jadakiss and Sheek Louch of The Lox who will keep his music alive forever. 
Today, on the one-year anniversary of his tragic passing after suffering from  a cocaine-induced heart attack in 2021, Jadakiss shares in his own words exclusively with BET.com  stories about his past with X including key moments that are cemented in his mind and heart. 
On being discovered by X...
"When he came and got me and Louch. One day, he just came around because he would always come around the block randomly, and one day it was like, 'Yo, X is looking for y'all.' He brought us to Ruff Ryders. He brought us to Waah [Joaquin Dean, co- CEO of Ruff Ryders Entertainment]  actually first. It was no audition or nothing like that. He was like, I'm signing and they signing  with me.
We couldn't sign the first time because we was too young. Our parents wouldn't let us sign so we had to of course wait until we was 18 but when he knew he was about to make that move with them, for him to come to the block that day, he just showed us all this unconditional love."
On how DMX made him a better MC...
"That's how Ruff Ryders operated. We all was in the Power House Studios and although we was family, we was all trying to kill each other. Not literally but lyrically. That sharpened everybody up even early Mace would come up there in his early days and sharpen his steel."
On DMX if he was a hot, new artist in 2022...
"Before he passed, all he had to do was get back to X shape and he would have been right back to Monster-ism. He couldn't control the stage with his energy and his breath control, but once he would have worked out, got back on his regimen, got back to the to the X weight that you used to seeing on stage, I think he would have been right back because of his passion for it. I think he would have been back in movies. I think he would have been back lit."
On his favorite DMX track...
"One of my favorite tracks that I ever did with him, you never heard it. It's called, "Gotta Keep On Keeping It Up I Gotta Get On." That was one of our first symphonies or posse tracks that we did with X when we was all figuring it out right before everything popped with Ruff Ryders. We were supposed to redo it and put it out after we all commercially signed and got in the game, but we never put it out. But it's still one of my favorite ones just because it brings me back to a time when we was all trying to figure it out. The name of the song and the hook is, "I gotta keep on keepin' on. I gotta get on." It's just hot. Fortunately, we was all able to get on and for it never to be released it was like it was spoken to fruition. It was like a silent blessing."
On what people may be surprised to know about X...
"If you knew him, you knew he had a good heart. Just like he said, he had a good heart, but his heart could get ugly. He loved people. He would give you the shirt off his back. He loved kids, people, animals, and he wasn't no materialistic person. He would give you anything in your pocket. He was one of those type of people. He was a rare individual and won't never be nobody like him ever again."
On X seeing the epic Verzuz 2021 battle between The Lox vs. Dipset…
"I think X would have loved it. That right there, Verzuz is what we came from and that's why it was so easy for us to do that. We started out in that same element together. We actually learned that shit from him. He rocked many a stage with two turntables and a DJ and just him with a mic in a black hoodie, black, dark glasses, and black Timberlands and just rip shit with no words, just instrumentals. We really really got that kind of shit from him. He would have been damn proud of us. He would have been in the crowd going crazy."
---
Dustin J. Seibert is a native Detroiter living in Chicago. He loves his own mama slightly more than he loves music and exercises every day only so his French fry intake doesn't catch up to him. Find him at wafflecolored.com. Wendy L. Wilson is the executive editor for BET.com