Ruff Ryders Co-Founder Darrin 'Dee' Dean Reflects On The One Year Anniversary Of DMX's Tragic Death
"You knew he loved you simply by how he spoke to you," said Dean.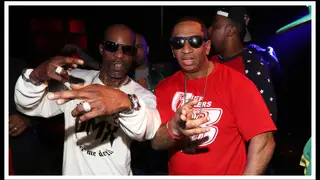 No one knew this more than Darrin "Dee" Dean, one of the founders of Ruff Ryders Entertainment. Dee considered X his little brother and was with him at the beginning of his career and worked with him through his farewell opus, "Exodus."
This weekend, the Ruff Ryder Bikers will ride to his gravesite to do a balloon release and a vigil. They plan to also celebrate his life by going to Nepperhan Community Center and to School Street House in Yonkers, NY and commemorating the day with the people who knew him best.
As the world remembers the multi-platinum artist on the first anniversary of his death, in his own words Dee shares with BET.com what he misses most about his friend of 30 plus years, stories of X's generous heart, and some of the ways the Double R has celebrated his life.
---
DMX was like a little brother to me, and I got a chance to watch him grow up and develop during different phases of his life. I was blessed just to be there and support him, by all means necessary.
I protected him from all kinds of different things that came into his life. I did that for him but let me tell you what X did for me. He set me straight. I often got sidetracked. I wasn't focused on things in life, and he was the one that made me have faith— believing that our rap dreams were possible. I believed our dreams in rap were possible because he made me. I believed in him so much.
For me personally, even though he's not here physically …  spiritually, I believe he's still here. I can hear his voice. I can feel him in certain things as they occur in my life and realize that he and I have always had a spiritual connection that's just stronger now that he's not here.
Through this spiritual connection, I learned how to believe in myself. He helped me see that I could be an important piece to the star he would become.  That's just who he was, who his grandmother raised him to be. His grandmother raised him in the church and that's how he knew about the Bible. He was able to recite it off the top of his head at any given time.
With him physically gone, what I miss most is X's energy. With him, there was never a dull moment, he never calmed down and at the same time, he knew how to uplift people.
If you weren't having a good day, and he might not be having a good day either, he would tap into his energy and would just uplift you. Just think about X's performances. He didn't need 20 people on stage. He would go up there and give his all. By his energy, everyone would be uplifted. Then there was the tone in his voice … that carried over to when he spoke to you.
You knew he loved you simply by how he spoke to you.
He was like a pastor in the way. He preached and taught people in the same way someone's pastor might— again uplifting people just with his regular conversation.
One thing that probably will shock people about X is that he was such a giving person. He was more of a giver than a receiver. I saw him walk up to a bum in the street that had nothing, and when the person asked for $1, he would take every dime out of his pocket and give it to the person. It could have been as little as $5 or as much as $10,000.
I have a lot of memories of him but one of my favorite was a time when we were in the studio. I did every album with him, but on this one day, while recording a song, something was different. He was in a dark booth rapping and he just disappeared. Finally, I pressed the talk button and asked him, 'X … what's happening? What's going on?'
He said he was fine, but he disappeared again. I went to check on him and he was on the floor in pain. He said, 'Let me finish the song and afterward we can go to the hospital.' Later, we found that his appendix had ruptured and that he had a hernia. But he loved the craft so much that he would never leave it undone.
Sometimes, I look at some of his old videos or listen to the recordings we made together, and I feel him. When I'm listening to his music or sometimes just sitting still, I can tell he's still around.
That's who he was and is to me.