Cardi B Is Making Christian Louboutin Richer By The Day
Sis needs a contract.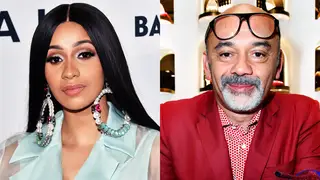 Christian Louboutin may be responsible for designing some of the most sought after luxury shoes for the ladies and deeming his brand "red bottoms" due to their infamous red soles. However, Cardi B is bringing the designer even more success after she lit the charts with her "Bodak Yellow" single replacing "red bottoms" for "bloody shoes."
Recently, the designer revealed in an interview with the New York Times that he isn't really a big fan of rap music, but knew of Cardi B because of her hit single. Well, in light of recent news reported by a Business of Fashion report, Mr. Louboutin might want to get to know way more about the female artist. He might even owe Cardi a discounted subscription to his "bloody shoes" by now.
Cardi B — who, when we last checked, owned over 90 pairs of Louboutins — has created an estimated $4.5 million media value this year for the brand after releasing her hit "Bodak Yellow." There's been a 217 percent increase in internet searches for the infamous shoes as well. Now do y'all see why Mr. Louboutin might need to be gifting or paying Cardi for the support?
Just another thing sis can add to her resume: reality star to rapper to business woman. We'll wait for Christian to seal the deal with a $20K or more contract like Fashion Nova.