Usher's Herpes Accuser Caught In A Huge Lie
There are receipts.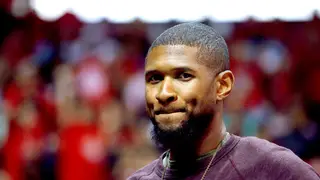 Laura Helm is moving forward with her $20 million lawsuit against Usher for allegedly giving her herpes, but there is a twist. Laura just got caught in a big lie, and she's defending herself.
Those nosy folks at TMZ obtained audio of Laura Helm on the phone saying she wouldn't sue because Usher always used a condom when they had sex and she wasn't worried about contracting herpes. "That's why they make protection, for people who have STDs," Laura said. It's important to note, you can still contract herpes with a condom. Contracting herpes does not require sexual intercourse. Listen to the audio below:
This conversation was allegedly on July 19, two days before Helm filed the lawsuit in which she claimed Usher did not use a condom. However, there is allegedly a reason for this big lie. According to TMZ, "Her attorney, Lisa West, says Helm only lied because she thought her publicist, Dennis Byron — the guy on the phone — was trying to shop a story to the media about Usher having an affair. West says Helm "didn't want to be exploited and, in her attempt to deter Byron from doing so, she told him (inaccurately) that she never had protected sex with Usher and that she did not have herpes." The attorney is accusing Byron of extorting Helm. 
Well, damn. It sounds like Laura Helm was caught out there. But on another note, how slimy is it to record someone on the phone and slip it to TMZ? Sounds like everyone involved in this "scandal" has ulterior motives.
See more Usher news with BET Breaks, above.