This Rapper Has A Fiery PSA To Colin Kaepernick's Critics: 'Eat A D**k!'
"I think it's dope for the culture that [Nike] supported him."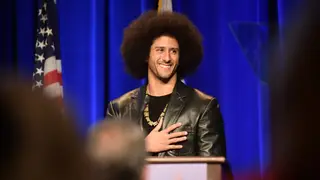 Yesterday (Sept. 3), it was announced that Colin Kaepernick would be the face of Nike's 30th anniversary of their "Just Do It" campaign. Despite being seemingly blacklisted from the NFL, Kaepernick secured an even bigger bag with reports detailing his Nike endorsement will include him having his own branded line featuring shoes, jerseys, etc.

The announcement had the internet in a frenzy with responses of all kinds coming to light

Kaepernick mostly received a plethora of love with the image of his face captioned with "Believe in something, even if it means sacrificing everything" becoming a viral sensation.


Not everyone wanted to celebrate the former quarterback, though. Despite the unfortunate slew of hate aimed at Kaepernick, Brookyln emcee Maino sounded off at those who are against the campaign. In an interview with TMZ, Maino was proud of Kaep and Nike, regardless of how the NFL feels.


"[Nike] didn't allow the pressure of the NFL to stop them from doing business. [The NFL] did all that to him because he stood up for something, so the fact that Nike stood up and supported him... one time for Nike."

However, when asked if had any words for those who campained against Kaepernick, Maino simply told them to "eat a d**k," with a body gesture to along with the direct sentiment. G-Unit's very own Tony Yayo even chimed in, saying, "I think [the campaign] is a great move [because] Colin Kaep is the man."

Check out the full interview below.