Rick Ross Doesn't Respect Birdman's Dealings With Lil Wayne
He also says he doesn't have a relationship with Birdman.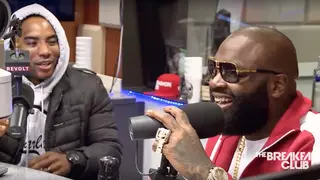 Birdman used to be the gold standard when it came to running a rap label, but since all the in-fighting began between him and Lil Wayne, among other members of YMCMB, his image has taken a hit.
Rick Ross recently sat down with Power 105.1's The Breakfast Club and spoke about the Birdman/Wayne beef. He had some rather stern words for his fellow label head and says he doesn't support how Baby is treating Weezy.
"For me to see the way things are transpiring I can't respect that. And I don't respect that," he explained when asked about situation while confirming he doesn't have a relationship with Birdman. "If you read the Source magazine you would see that, you know right now, and really me just seeing what Wayne going through as an artist. Him being a boss. Me idolizing Birdman at a time. Me looking up to Lil Wayne. Wayne being the first artist to make so many feats — not just as an artist but an artist coming from the South. That's something that I took personal."
The Miami native and Maybach Music Group boss also responded to the question of whether his recent "Color Money" record was aimed at Drake.
"That record is what it is, ya dig?" said Ross. "It's a lot of different people that's going to interpret it a lot of different ways, and it is what it is. Let's see how it unfold. I don't play no games."
Rick Ross is slated to release his forthcoming album, Black Market, on Friday (December 4). The LP will be Rozay's third project drop since September.
BET.com is your No. 1 source for Black celebrity news, photos, exclusive videos and all the latest in the world of hip hop and R&B music.