La La Anthony Claps Back at Rude Fan Who Comes for Her Son
You don't mess with her baby boy.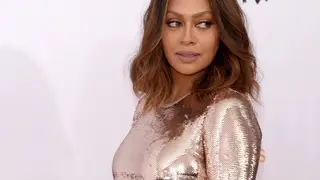 La La Anthony caught some unexpected shade on Instagram yesterday when she posted a photo of her son Kiyan with a new dyed 'do. It seems not everybody is down with the 8-year-old rocking a blonde top:
La La follower @iameriku couldn't resist leaving a comment, in response to one by another follower, criticizing La for letting her son dye his hair and making a very odd comparison in the process: 
"I don't need no fu**ing clap back!  His hair looks like Chris Brown he's like 10??? A 10 year old can dye his hair, and then we wonder what's wrong with people using guns and sh**.  Kids can do whatever the f*** they want!  I unfollowed after this picture," the bitter follower wrote.  
La La, as expected, as quick to put the commenter in her place: "The real question is…WHY YOUR FACE LOOK LIKE THAT?  #FOH trying to come for an 8 year old." 
Since the spat, fans have come out in support of La, with one saying, "I love it.  It's important to let your kids be who you are…Good kids should always get what they want."
Internet trolls, take note: La La won't hesitate to flash her claws if you come for her kid.
Watch the actress, author and TV host open up about her family and love life on The Queen Latifah Show, below:
 (Photo: Ben Gabbe/Getty Images)
BET.com is your No. 1 source for Black celebrity news, photos, exclusive videos and all the latest in the world of hip hop and R&B music.