Happy Birthday, Tiny! Five Of Her Most Iconic Moments
Tameka "Tiny" Cottle Harris turns 48 today.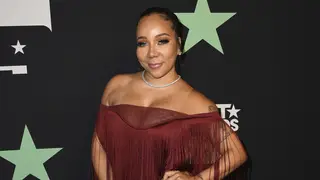 Today (July 14), we celebrate the 48th birthday of the multi-talented Tameka "Tiny" Cottle. As a singer, songwriter, and television personality, Tiny has left been slaying the entertainment industry for 30 years. Her journey has been marked by numerous iconic moments, including her close friendship with Kandi Burruss. In honor of her birthday, let's look at five unforgettable moments that have shaped Tiny Cottle's career, from music to television.
'Tiny and Toya'

In 2009, Tiny and Toya Johnson teamed up for their reality show, "Tiny and Toya." The series chronicled their personal lives, careers, and their journey as strong, independent women. The show became a massive hit with 1.8 million viewers tuned in every week, which was the top-rated original series in BET history at the time. 

Her Solo In 'Tonight'

In October of 1993, Xscpae's  "Hummin' Comin' at 'Cha" was released. The album delivered huge hits, including "Understanding" and "Just Kickin' It."  However, one of the best moments from the album was Tiny's solo in the power ballad "Tonight." See the performance above.

X-Scape Reunion(s)

Xscape has reunited for two reality shows, 2017's Xscape: Still Kickin' It and this year's SWV & XSCAPE: The Queens of R&B, which was a huge hit. However, one of their most iconic reunions was when Kandi, LaTocha, Tamika and Tiny rocked the Soul Train Awards in 2022 -- see above!

Co-Writing 'No Scurbs'

In 1999, Tiny and Kandi Burruss wrote the legendary Billboard Hot 100 hit "No Scrubs"by TLC. See the iconic video above. 

Wife And Mom

Lastly, Tina is a wife and mom. She is a dedicated mother to her children and has supported her husband, rapper T.I., through the highs and lows of their relationship. They've been married for 13 years and they have seven kids together (four from previous relationships). Their family was documented on six seasons of T.I. & Tiny: The Family Hustle.