Addison Rae's Jimmy Fallon Performance Draws Fire From Black TikTokers
Some are accusing the social media star of blatant appropriation.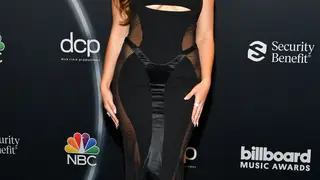 Addison Rae, one of Tik Tok's biggest stars, and Jimmy Fallon are under fire after Rae performed a number TikTok dances on the Tonight Show Starring Jimmy Fallon and did not credit the Black users who created them.
During a recent episode of Fallon, Rae was tasked with "teaching" the NBC host the series of dances as he held up signs with their names on them. Many of the TikTok users who created the dances are Black, but Fallon's audience of millions of viewers would never know that based on the segment.
"This is colonizer culture in real time cause she did not have the talent or creativity to come up with these dances but she's getting the credit and exposure," one Twitter user wrote.
Another Twitter user decided to provide the handles of all the challenge creators.

On the YouTube version of segment, the creators were credited in the description: "Do It Again: @noahschnapp, Savage Love: @jazlynebaybee, Corvette Corvette: @yvnggprince, Laffy Taffy: @flyboyfu, Savage: @kekejanjah, Blinding Lights: @macdaddyz, Up: @theemyanicole, and Fergalicious: @thegilberttwins." It isn't clear, however, if they were added before or after receiving criticism online.

See what a few people had to say on Twitter below.