Roseanne Made An Insanely Racist Comment About President Obama's Former Aide, And Twitter Is Disgusted
Can she be canceled, already?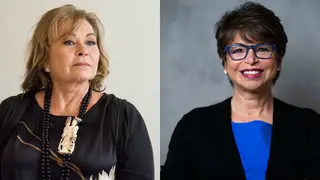 Roseanne Barr has reared her racist head once again, and this time, she's set her target on president Barack Obama's former adviser Valerie Jarrett.
In response to a Twitter comment made about Obama's ex-aide, the actress disgustingly claimed Jerrett was a product of the Muslim Brotherhood and the "Planet of the Apes."
"Muslim brotherhood & planet of the apes had a baby=vj," she specifically tweeted in response to the post.
According to The Wrap, Jarrett, an African-American woman, has absolutely no ties to the Sunni Muslim organization that goes by the "Muslim Brotherhood" and was one of the most senior and longest serving figures in the Obama administration.

The site reported that Jarrett declined to comment on the unsurprising but disappointing jab from the notoriously racist actress. A rep for ABC, Barr's show's parent network, also failed to respond to a request for comment.

Several Twitter users, however, have taken ABC's silence as tolerance for Barr's behavior, with many of them questioning their promotion and airing of her eponymous sitcom. Take a look at their responses, below: