Whoa: Tamar Braxton Reveals Vince Is Having A Secret Love Child With His 'Whore' In Epic Instagram Rant
She also dropped that he was arrested over Christmas.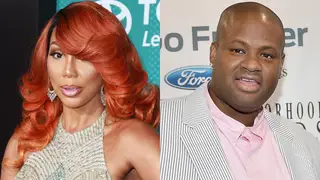 Many have been wondering if the marital drama between Tamar Braxton and Vincent Herbert is a big ratings ploy, but things just went to the next level when it comes to their messy divorce.
Tamar took to Instagram very late Friday night to reveal some hurtful news she received about her soon-to-be ex-husband. This is...game-changing.
Get more news on the estranged couple with BET Breaks, above.
The "My Man" singer took to Instagram to share with her followers that Vincent's alleged mistress just dropped a bomb on her, claiming she is having his child.
"That stupid broke a*s whore should check public records on Christmas before she goes through with it!!" she wrote. "He called back (despite of his protection order) begging and lying."
She ended her post by letting her fans know that if she "can leave this liar u can leave yours too."
Read her full heartbreaking post, below:
And now, for the second bombshell: the "protective order" and "public records" Tamar is referring to stems from Vince Herbert being arrested on Christmas Day, allegedly for violating Tamar's protective order against him. According to reports, Vince called Tamar — and we're guessing the call didn't go well considering it was enough to get him arrested for a misdemeanor. According to papers, he's out on $20,000 bail. See the police report, below:
Tamar filed for divorce from Vincent back in October after nearly nine years of marriage. Since her filing, there have been claims of physical abuse by the hand of Vince and several instances of infidelity.