[Video] Try Not to Cry Watching These Parents Reunite With Their Adopted Sons
The boys were stuck in an orphanage in the Congo for years.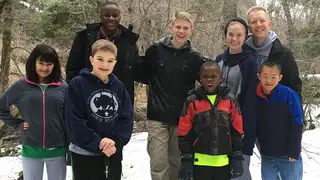 Jennifer Murrow Grover and her husband James Grover adopted two boys from the Democratic Republic of Congo in 2012. But while waiting for the U.S. to approve their sons' visas, Congolese officials placed a suspension on adoptions, forcing Joseph, 14, and Bronson, 7, to live in an orphanage with scant resources. The Grovers have been besides themselves trying to bring their boys home, and on March 1, after an agonizing three years, they finally did.
"In 2012 (yes, you read that correctly...2012), we started the adoption process to bring home our two precious sons from the Democratic Republic of Congo," Jennifer wrote on Facebook, captioning a video of the boys' homecoming. "March 1, 2016 11:45pm..."
The boys were welcomed with tears and unending hugs at Salt Lake City International Airport. The video of the reunion, taken by Jennifer's mother, went viral and has gotten over 5 million views — and, no doubt, sparked a lot of tears — since Jennifer posted it on March 3. 
Jennifer tells Us Weekly that Joseph and Bronson immediately bonded with their siblings, which include four of the Grover's biological children and two other adopted ones. "I was expecting things to be difficult because of their age and the stark contrast in conditions," she says, "but I was very pleasantly surprised. All the kids have attached in every sense of the word. Last night they had leg wrestles and dance parties in the family room!"
After their ordeal, Joseph and Bronson seem happy and well-adjusted in school and their new home. "The response has been overwhelming … I'm usually a very private person," Jennifer says. "There are people who are saying, 'I grew up in foster care and I wish that day had come for me. I just wanted someone to give me a home.'"
(Photo: Courtesy the Grover Family)