Paralympic Medalist Brittni Mason Says Wearing Track & Field Gear Is One Of The Highlights of The Sport
"I always thought the outfits were super cute," said the athlete.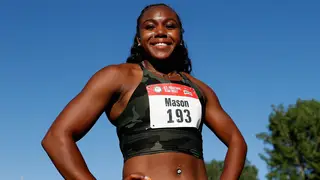 For Brittni Mason, wearing her professional track and field uniform is a flex.
In a piece she penned for  PopSugar, the 25-year-old opened up on her pride when she steps foot in her red, white, and blue running gear.
"Honestly, growing up, my favorite thing about running was the uniforms," she revealed. "I thought they were so cute. That's a weird thing to love about the sport, but that really piqued my interest."
For the athlete –whose personal style is "very girly" and consists of hair, nails, and bling– she says her motto while growing up was "Look good, run good."
As she prepares for the Paris 2024 Games, she is in fashionable company with her teammates.
"I could see everyone had their own style — even though it's a team sport, it's very individualized, so I really liked that," the three-time Paralympic Medalist wrote.
Mason also reflected on a fun memory with one of her roommates as they decorated their uniforms during a friendly competition.
"My favorite look so far has to be worlds this year. My roommate and I, we bedazzled our faces with the USA colors, put hearts and stars on our faces," she shared. "My hair was blue and black, our uniforms were red, white, and blue, my nails were blue with little rhinestones on them, and then I had the "USA" written across my face in bling. I loved it."
As competitive as the sport can be, Mason said the team's garments have also helped relieve her of "pressure" from the track.
Another way she relieves her stress from the sport is by prioritizing breaks during training.
"I'm always making sure I have self-care time, I always make it a point," she noted. "I believe that pedicures help me run faster, they help my feet. Massages, they make me run faster, my body feels great. Those are things I am doing every two to three weeks — I'm always getting massages, I'm always getting my hands and my feet done and making myself feel good."