B. Simone Reveals She Bathes Every Two Days And Twitter Has A Field Day
The 'Know For Sure' podcast host shared that she didn't see it as necessary to bathe daily.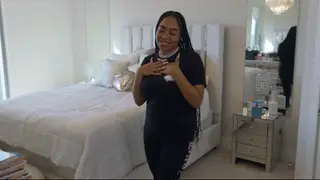 On November 16, social media personality B. Simone revealed on her Know For Sure podcast that she doesn't bathe daily.
Simone, 32, was joined by co-host Megan Brooks and comedian Desi Banks when she disclosed her bathing schedule.
"I don't shower every day. You just need to be with somebody you can be yourself with."
The social media influencer said that if she showers Monday morning, she'll shower again on Wednesday, but if she's "thuggin' it," – Thursday. This led to social media reactions, as you can imagine.
One Twitter user said, "B. Simone saying a 9-5 man not up to her standard but only showering every 2-3 business days is madness."
Simone, 32, posted a humorous video of herself lathered up in the shower while seemingly promoting her Simone Beauty products.
Another user noticed that the influencer's shower caddy had no bathing products.
Desi and Simone poked fun at the reactions and did a skit.