Remy Ma Credits This Major Lifestyle Change To Her Recent Weight Loss
Her hard work is certainly paying off!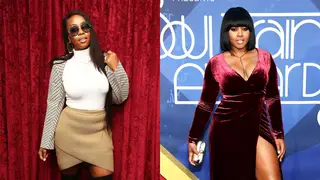 While doing press for her new song with Lil' Kim, "Wake Me Up," Remy Ma visited The Wendy Williams Show. It was clear as soon as she strutted onto the stage wearing a body-hugging Rianna + Nina wrap dress that something was different about her appearance. As per usual, Wendy is always here to tell it like it is.
"You look stunning! I didn't know if it was Spanx or what when I saw pictures of you, but you've lost hella weight," Wendy exclaimed right away. "What are you doing?"
The 37-year-old rapper was indeed sporting a slimmer physique and revealed that she was doing a cleanse that ultimately led to her giving up meat. "Well, first I did a juicing thing and cleansed everything, and then I stopped eating meat," she said. But don't call her a vegetarian just yet. It looks like Remy isn't doing labels, but she's consuming mostly fruits and veggies right now.
"I only do like seafood here and there. Mostly just fruits and vegetables and water, water, water. It's a lot, but when you go outside and then everyone says, 'Oh my God, Remy looks so good.' I'm like, 'You know what? I really don't need that soda. It's OK. I didn't want it anyway.'"