Donald Trump on Snoop Dogg's 'Lavender' Video: 'Jail Time!'
Twitter fingers versus trigger fingers.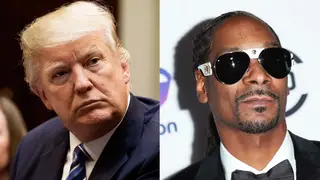 Since the onset of former reality television star Donald Trump's political campaign, Twitter has unfortunately been forced to bear witness to his sporadic ranting and histrionic fuming against several individuals, companies and organizations.
And while it's not every day that he dabbles in hip-hop territory, Snoop Dogg is the latest person to find himself on the receiving end of Trump's 140-character clamor.
Following the release of Uncle Snoop, Kaytranada and BADBADNOTGOOD's "Lavender" visuals, where a "Ronald Klump" character is depicted in the likeness of Trump, the 70-year-old took to Twitter to denounce one of the video's final scenes.
"Can you imagine what the outcry would be if [Snoop Dogg], failing career and all, had aimed and fired the gun at President Obama? Jail time!"
The scene in question takes place at the three-minute mark with Snoop in his normal weed-infused, West Coast setting aiming a gun at the head of "Ronald Klump" with the support of practically the entire hood behind him. As Snoop's pistol fires, a classic "Bang!" sign is ejected from the gun instead of a bullet. While the legendary hip-hop artist, producer and Grammy-nominated rap star has remained outwardly opposed to the former Apprentice television show executive, the video is yet another installment of several anti-Trump anthems on hip-hop's playlist.
It's also worth mentioning that during President Barack Obama's successful eight-year presidency, several inflammatory displays of disturbing, racially-charged sightings were also present — sans "jail time" for perpetrators. And considering Snoop's abundance of fruitful business ventures in television, film, charity, digital app development and touring, we're not sure what Trump means by "failing career," either.
See his response to the "Lavender" video below.