The First Trailer Of The Bobbi Kristina Biopic Shows A Haunting Reminder Of Her Pain
This one-minute clip delves into all of Bobbi's inner demons.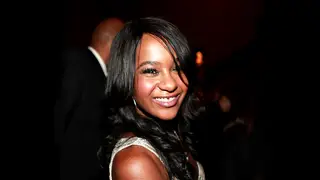 A biopic centering on the life and death of Whitney Houston and Bobby Brown's daughter, Bobbi Kristina, is officially coming to the small screen, and it's going to illustrate quite the story. The first trailer for the upcoming TV movie was released this week. It delves into the young star's dark relationships with drugs and Nick Gordon, as well as her insecurities from living in the shadow of her famous parents.
The one-minute preview dives right into the heart of Bobbi Kristina's narrative, just after her mother passed away. As audio of past news broadcasts about her parents begin playing, Bobbi Kristina is seen walking with her back turned in a dark room. As the clip progresses, Bobbi appears to grapple with whether she'd like to  join the family business -- entering into the music industry -- or follow her own path. Bobbi Kristina is also seen fighting with her aunt Pat Houston about her relations with Gordon. "He's a troubled young man," her aunt states. "He is the single best thing that's happened to me since my mom," Bobbi responds.
Although briefly, the teaser delves into the challenges Bobbi faced being overshadowed by her mother's legacy. "Everything is about Whitney," she frantically cries. There is also a memory between her and her mother, in which she confesses her insecurities. "I can never sing as well as you. I can never be the superstar that you are," she yells. The trailer also explores other monumental moments in Bobbi Kristina's life, shedding light on both the good and bad times.
Bobbi Kristina will reportedly be portrayed by rising actress Roy Rovaris. Vivica A. Fox will star as Pat Houston. And Bobbi Kristina's parents, Whitney and Bobby, will be played by Demetria McKinney and Hassan Johnson respectively.
The second anniversary of Bobbi Kristina's tragic death recently passed on July 26. Brown died in 2015, nearly six months after she was discovered unresponsive in a bathtub in her Georgia home. She died only three years after Whitney Houston passed in the same manner. Gordon was previously found civilly liable for her death back in Nov. 2016, and was ordered to pay $36 million to her estate. No criminal charges have been brought against him, however.
It is unclear if the Brown or Houston family has approved the making of this TV movie. Bobbi Kristina is expected to premiere sometime in Oct. 2017.