'Mistakes Will Be Made': Bizzy Bone Reflects On Verzuz 'Fight'
He hurled a bottle at Three 6 Mafia during the event on Thursday (Dec. 2).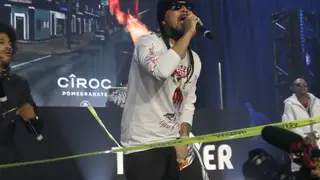 The Verzuz battle between Bone Thugs-N-Harmony and Three 6 Mafia on Thursday (December 2) turned raucous after an on-stage fight broke out between the two legendary groups.
Bizzy Bone, who according to news reports was at the center of the scuffle and figuratively threw the first blow after he lobbed a water bottle at the Memphis hip hop group, says it was all part of the sport, or entertainment.
Taking to his Instagram account, the Columbus, Ohio native says his emotions were running high and seemed to apologize for interrupting the flow of the event.
"I feel as a man there is a time to apologize and be the bigger person. Even if you do not feel wrong," he wrote. "@melyssa_lp @triller @verzuztv thank you for everything. But when u a man you understand there is a time to be the bigger person. Mistakes will be made. This is Hip Hop, if we was posed to be perfect then we wouldn't even be here."
He also mentioned Verzuz co-founder Swizz Beatz specifically, writing, "Swizz needed to be called and spoken to as well, even though he told me it was ok. Ol beautiful n####. When i got back on stage i meant what i said. I really hope you guys understand my passion for music and my seriousness about GOD. I really believe in what i say. Im a artist. I came back because i know a lot of people depended on me."
In video of the Verzuz battle, Bizzy can be seen throwing the bottle at Juicy J, who yelled "S**k my d**k" into the mic. The two groups then engaged in a scuffle that was subsequently broken up, leading to the event continuing.
Bizzy also caught up with TMZ and said that Swizz was actually here for the brief melee.
"Swizz told me, you know, it's Hip Hop, b. Like, I ain't trippin'," he recalled. "Everybody saying that [Swizz] was saying something. He wasn't talking about us. Like, we do our own prayers."
Before the regularly scheduled program continued, Bizzy Bone returned to the stage to apologize to the crowd. He then returned to the stage and delivered an apology to his rap compatriots and the crowd. "Pardon me," Bizzy said, lamenting his embarrassment to millions of people.