Will.I.Am and Hillary Clinton to Produce Rap Concert
Funds raised will help programs abroad for American students in China.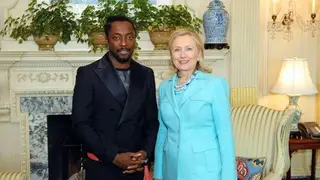 Well there's a collaboration we didn't see coming. Will.I.Am and Secretary of State Hillary Rodham Clinton will produce a rap concert in Beijing, China later this year to emphasize and promote the educational and cultural ties between the United States and China. The Black Eyed Peas frontman will perform alongside other American and Chinese artists in support of President Barack Obama's "100,000 Strong Initiative."

The campaign, which launched in May 2010, aims to increase the number of students studying in China.
"In order to become responsible global citizens, young people need to experience the world around them," Will.I.Am says. "Kids from underserved communities rarely have the opportunity to study and travel abroad, and we want to change that. We must make sure that American students have the cultural awareness and skills necessary to succeed in a global economy."
A date for the concert is yet to be scheduled, but proceeds from the event will help programs abroad for underserved American students in China.