Exclusive Preview: Watch Ice Cube On 'Red Table Talk' Explain The Inspiration Behind His 'Contract With Black America'
The Facebook Watch show will also feature Van Jones and Brandon Marshall.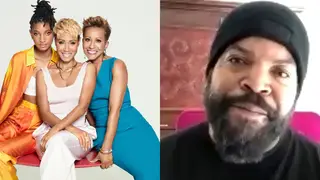 Ice Cube is fed up and fired up about the state of Black America. The award-winning rapper and movie star is heading to the hit Facebook Watch show Red Table Talk to discuss the reasoning behind his groundbreaking  "Contract With Black America". During the episode, which will air on Tuesday (October 6) at noon EST, the L.A. rapper reveals the details behind why he believes a contract is necessary to properly address racial inequality for Black Americans and what prompted him to spread his message. 
In July, Cube released a video entitled, "What In It For Us," calling politicians to sign the "Contract with Black America" before expecting Black voters to support them at the polls. Now, he's coming to the red table to explain the motivation behind his movement. 
Watch the BET.com exclusive preview of his appearance on Red Table Talk below. 
Ice Cube's contract states that it was "written in the backdrop of the killing of George Floyd, which set off a wave of protests not seen since the Civil Rights Era of the 1950's and '60's, and a global pandemic in which the Black mortality rate is more than double the White rate and in which 45% (nearly half) of Black-owned businesses closed." 
The episode will also feature commentary from CNN Political Commentator and CEO of REFORM Alliance Van Jones and former NFL player Brandon Marshall, who, along with Willow Smith, will talk about their first time voter experiences. Marshall is also working to encourage other NFL players to get registered and become more politically involved. 
Tune-in to Facebook Watch for a new episode of "Red Table Talk" on Tuesday, October 6 at 9am PT /12pm ET.