NeNe Leakes Says She and Boyfriend Nyonisela Sioh Are 'Taking a Break'
The former Real Housewives of Atlanta star confirmed she is single again.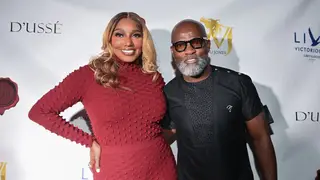 Reality TV legend NeNe Leakes sat down with former Real Housewives of Atlanta producer Carlos King on his weekly podcast for a two-part interview.
On the show, Reality with the King, Leakes talked about her love life, including dating after the passing of her husband, Gregg Leakes.
The 55-year-old reality star had been most recently linked with African entrepreneur Nyonisela Sioh. However, Leakes confirmed that they are no longer together.
"Today, we are taking a break. We've been taking a break," Leakes confirmed on Tuesday's episode, per PEOPLE. "It's … things I'm not happy with, things he's not happy with. It's just not working at the moment," she said, before joking, "He is single so if any of the ladies out there want to holla at him, go right ahead."
The couple was first seen out and about in December 2021—following Gregg Leakes' passing in September.
In January 2022, Leakes showed Sioh public love on social media sharing a photo of him in a custom camouflage suit on her IG story and writing, "The way you love on me & take care of me…grateful!"
The couple later attended the 2022 BET Awards together, styled in complimentary midnight blue attire; at the time, Leakes said that Sioh helped put a smile on her face.
However, the relationship experienced several public challenges—specifically when Sioh's estranged wife, Malomine Tehmeh-Sioh, sued Leakes for emotional distress, humiliation, and even loss of affection from Sioh and accused her of breaking up their marriage. The lawsuit sought over $100,000 from Leakes and was filed in North Carolina, where breaking up a marriage is a valid reason to sue.
Leakes denied the charges saying, "I'm already out here a husband stealer, and this is too much," she said. "And ain't nobody out here stealing husbands. Are they? I would never. Nobody wants to steal nobody else's problems, honey."
The reality star admitted to King this week that the public nature of the relationship invited problems. "My next relationship will be absolutely private," Leakes said firmly. "This was the most public I think I've ever been in any relationship — it's more public than Gregg's. And I just feel like it's just best to be private."
She also said that she did learn one thing for sure from her last relationship, "I know from dating Nyoni, and Nyoni has a great career and makes great money … I just want my guy to make more money than me. I really do."
Leakes also expressed her longing for love again after losing her husband whom she first married in 1997, then divorced in 2011, and remarried in 2013.
"My love with Gregg was the ultimate, and I feel like you just don't find love like that. I don't know I'll ever find that again. I just don't," she told King.
However, she added that she is still hopeful about finding new love.
"I think that I'll find a great guy to spend my life with. But Gregg, he was pretty, was up there. It's going to be hard to get up there. I hope I meet a great guy, though — and I'm open to all ethnicities," she added with a smile.