Watch: Minn. Police Violently Arrest Larnie Thomas for Walking While Black and Spark Outrage
Here's what the NAACP believes needs to happen to the Edina PD now.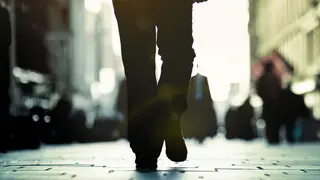 On Wednesday afternoon, the unfair arrest of a Black Minnesota resident, Larnie Thomas, was recorded and uploaded by a witness. The seven-minute long video was captured by Janet Rowles, a white woman. In the clip, Edina police officer Tim Olson physically arrested Thomas because he was simply walking down the street. 
In the beginning of the video, we see Olson with a tight grip on Thomas, who does not understand what he did wrong. Olson attempted to explain that Thomas was walking in the street, yet Rowles comments that there is construction and nowhere for the man to walk.
As the video continues, Thomas becomes upset and frustrated with the situation and Rowles understands exactly why.
"He's scared, sir," Rowles calmly tells the officer. "It's scary."
When Olson continues to hold Thomas by the back, Rowles whispers to the camera, "It's because he's Black."
Eventually a second officer arrived on the scene and put Thomas in handcuffs, even though Thomas and Rowles were still very unclear as to what he did to warrant being detained.
After the incident, Rowles uploaded the clip to YouTube and public outrage soon followed. The City of Edina first released an initial statement acknowledging the video and explaining that Officer Olson acted appropriately because Thomas was not complying with his orders to get out of the street. 
"Watching that video and seeing a black man being manhandled and emasculated by Edina Police was not only painful and humiliating, it was a vivid reminder that blacks are still too-often seen as second class citizens in the State of Minnesota and in this nation. At any time, our rights can be violated by police and then various laws and policies are used to justify their conduct, rather than to hold them accountable. It is sad to say, but that man in the video could easily have been the next #PhilandoCastile or #JamarClark, two unarmed black men who were killed by police within the last year. When will we say #EnoughisEnough?" said Nekima Levy-Pounds, civil rights attorney and President of the Minneapolis NAACP.