Is Empire 'Too Gay'? Here Is How One Cast Member Reacted
See why Twitter is mad at this week's episode.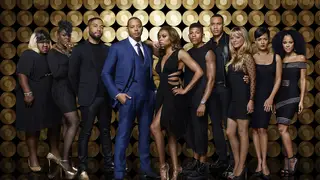 Empire has always been the kind of show that gets people talking, but last night's episode sparked an interesting backlash on Twitter by those who're mad at the hit series' gay story lines.
The chatter started after a sexy scene in which Jamal (Jussie Smollett) and D-Major (Tobias Truvillion) hooked up.
Some Empire fans were not at all happy about the man-on-man action, and didn't hesitate to say so on social media:
Jussie himself couldn't resist jumping on Twitter to comment on the hate, seeming both amused and annoyed by the backlash:
It's unfortunate that in 2016, many people's tolerance for sex on TV still doesn't extend to those outside the straight community. But respect to Lee Daniels's hit series for continuing to push the envelope for the sake of both entertainment and conversation.
Watch our compelling interview with Smollett, who aims to make "a homophobe a hypocrite" with his art, above.