'Dear White People' Season 2 Has Some Big Surprises
Get ready.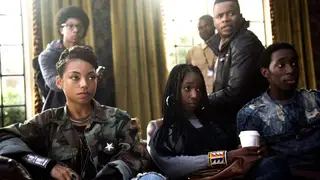 Netflix hit gold with its hugely successful original series Dear White People.
The first season of the millennial driven afrocentric show tackled a slew of issues that young Black people in America, specifically through the lens of a college campus, experience. So, the only natural thought to follow is, "What's next?"
During the junket for Netflix's Step Sisters, cast members Nia Jervier and Marque Richardson (who play Kelsey and Reggie, respectively, in the series) exclusively dished to BET.com about the "explosive" second season.
"There's a bunch of explosions, there's car chases, bombs going off. It's crazy," Richardson said sort of tongue-in-cheek. "But the writers, they really wrote their asses off, and if Netflix allows what is on the paper to translate to the screen, minds are going to explode all over the place."
Jervier even shared an experience during the cast's table reads that proved the next season is going to be one for the books.
"Season two of Dear White People, it's almost on steroids," Jervier added. "Everytime we read the new script, a new script for the next episode, we were all freaking out. There's even an episode so crazy that all of the writers and producers in the room put their cell phones on to videotape us."
Watch Nia and Marque spill the tea on the highly anticipated season of Dear White People in the BET video, above.