Zoë Kravitz Is The Focus In New 'The Bat and The Cat' Trailer
The two-and-a-half-minute preview teases a cool team-up.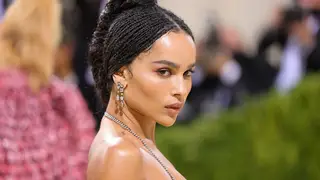 A new trailer for Warner Bros.' The Batman dropped today, Monday, Dec. 27, depicting more of the dynamics between Robert Pattinson's Bruce Wayne/Batman and Zoë Kravitz's Selina Kyle/Catwoman.
Titled "The Bat and the Cat," the trailer, which can be seen below, also gives a closer look at Paul Dano's Edward Nashton/The Riddler's plan for the Dark Knight and all of Gotham City.
Without giving too much away, the two-and-a-half-minute preview finds Pattinson's playboy alter-ego being approached to do more for his community. "Your family has a history of philanthropy but as far as I can tell, you're not doing anything," he's told over clips of Batman in action.
Later on, as the World's Greatest Detective continues to decipher the question-mark-filled messages, Kravitz teases a team-up as both Catwoman and her alter-ego Selina Kyle.
"I have a thing about strays," she tells him.
In another scene, as the two appear to be in the midst of a battle, possibly against The Penguin (Colin Farrell) and his stooges, Catwoman intones: "The bat and the cat — it's got a nice ring."
The banter between the two throughout the scene is a subtle callback to the comic's trope of the characters flirting with each other, especially amidst dangerous situations.
With hype growing for the Matt Reeves-directed actioner, The Batman, which is set to hit theaters on Mar. 4, 2022, also stars John Turturro as crime boss Carmine Falcone, Jeffrey Wright as Commissioner Gordon, Andy Serkis as Alfred, and Peter Sarsgaard as a Gotham City D.A.
Check out the full trailer below.