New Music Monday: Lil Uzi Vert, Wiz Khalifa And Veeze Start Your Week With A Fresh Batch Of New Tunes
Tune in every Monday to catch songs you need to add to your rotation.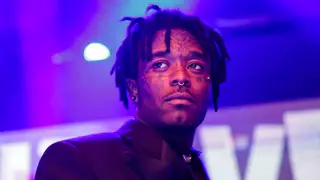 It's hard keeping up with all the new music released each week. Just when you've fallen in love with a certain song, album, or artist, something else drops. It's a fun time to be a music fan, sure, but also tricky.
Rest easy though, as BET has you covered with our weekly New Music Mondays post, featuring some of the latest artists, sounds, and trends in hip-hop, r&b, Afrobeat, house and more.
You'll find a familiar (and not-so-familiar) array of artists and emerging music. So, without further ado, here are ten new records that you should kick off your week with, including selections from Lil Uzi Vert, Wiz Khalifa, and Veeze.
Lil Uzi Vert (feat. Travis Scott): "Aye"

Lil Uzi Vert released his highly-anticipated project Pink Tape on Friday including the Travis Scott-featured track "Aye."

Wiz Khalifa (feat. Ty Dolla Sign): "You"

On Friday, Wiz Khalifa released the single "You," featuring Ty Dolla Sign. The drop comes just days after the Pittsburgh rapper put out his mixtape See Ya.

Veeze: "Not A Drill"

On Friday, Detroit's Veeze released his latest album Ganger and a video for the single "Not A Drill."

Sampha: "Spirit 2.0"

Last week, Sampha released the transient single "Spirit 2.0."

Father: "Oxenfree"

On Friday, Awful Records' Father released his latest project with HU$BAND 2 and the stand out video and song "Oxenfree."

J French: "Merci"

Last week, J French released the introspective song and video for "Merci."

Kota The Friend: "Road Rage"

Off of his new album Protea, Kota the Friend's Aloe Blacc-assisted song "Road Rage" is a standout.

Tainy (Daddy Yankee, Feid & Sech): "La Baby"

Last week, Tainy dropped his new single "La Baby" featuring Daddy Yankee, Feid and Sech ahead of his debut album DATA, which dropped Thursday.

Cydnee with A C: "Don't We Always"

Last week, Cydnee with A C released her latest single "Don't We Always" ahead of the release of the sped-up version of her new EP Confessions of A Fan Girl.

Rylo Rodriguez (feat. Lil Baby): "Real Type"

On Friday, Rylo Rodriguez released his new album Been One, including the Lil Baby-featured single "Real Type."

Bonus Heat #UpAndComing: Check out Lah Pat's brand new song/video "Kamikaze"

It's one of our new favorites!