Meet The Plant Parents Who Keep Our Timelines Filled With Tips, Tricks, And Lots Of Greenery!
Happy Earth Day! Meet some our our favorite plant parents on Instagram.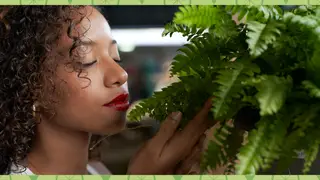 Spending more time at home amid the pandemic has resulted in many of us finding new hobbies. We've even begun to explore our hidden talents—yes, TikTok counts! 
Another interesting rise in popularity during these times has been the unexplainable urge to make new friends. While some turned to social media to build long-lasting bonds, others decided to carve out space in their homes for plants.
Okay, we'll be the first to admit that we may have low-key gotten a bit out of control with our new additions. However, the need for oxygen in the home is a healthy trade-off. Right? 
We're not the only ones that borderline turned our homes into greenhouses. According to NBCNews, many Americans turned to houseplant for comfort. 
With the demand for green leafed companions, the term "plant parents" spiked on social media, with more people showing off their green thumb. 
In honor of Earth Day, we've compiled a list of our favorite "plant parents" on Instagram. These select few not only inspire us, but they also keep us as happy as a succulent on water day with their tips and tricks (that actually works!).    
Danielle (@zelue)

As a self-care advocate and coach, Danielle understands the importance of balancing work life with things that make you happy. In her case, it's wellness and healthy plants!

Campbell Washington (@seedatlanta)

Campbell took her love for houseplants and turned it into a lucrative business! As the owner of Seed Atlanta Plant Shop, the influencer gets to bond with tons of great house plants, both common and rare.  

Nkhensani Rikhotso (@hermerakai)

Always smiling from ear to ear, Nkhensani Rikhotso is one of our favorite plant stylists on social media! Not only does the plant educator give great insight on caring for plants via Instagram, but the high-spirited influencer also offers one-on-one plant consultations. 

CHRISTOPHER (@plantkween)

When we need a quick pick-me-up after a long day, we always find ourselves scrolling through Plant Kween's timeline. Filled with stylish footage amongst plants, the Brooklyn-based genius stays giving us the 411 on being a great plant parent. 

Johdi Moulton (@honeyrosedecor)

Johdi Moulton immerses you in her plant-filled lifestyle. With a home beautifully designed with decor from her one-of-a-kind plant accessory shop, there's no need for an explanation why we love her timeline! 

Jade Adams (@oglewoodave)

As the owner of a modern houseplant boutique, Jade Adams is a serious plant fanatic. We especially love how her page is filled with tips and tricks to keep your house plants looking their best!