Anderson .Paak Is Ready To Catch The Next Wave
"You kind of have to get back out and paddle… you're going to be scared forever if you don't."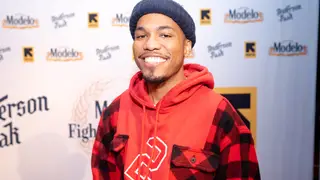 Physically, Anderson .Paak is backstage at the iHeartRadio Theater in New York City. But mentally, the West Coast native is thousands of miles away, fixated on the perennial sun-soaked beaches of California. Like most successful people, .Paak spent much of his youth dreaming of greatness. Years later, the multi-hyphenate artist has curated four critically acclaimed bodies of work, all in accordance with those childhood dreams.
The story of Brandon Paak Anderson can be found in the funkadelic croons and flashy raps of his series of Pacific Coast-inspired albums, beginning with Venice in 2014, followed by Malibu in 2016. The latter of the two projects made waves big enough to catch the eye of none other than Compton icon Dr. Dre, who signed .Paak to Aftermath Records that same year.
On the heels of his Grammy award-winning 2019 album Ventura, .Paak is currently living a reality he couldn't have imagined in his wildest fantasies. "The Grammys was one of those things that felt too far [out of reach] to fathom," he tells BET.
Ventura, which came less than six months after last fall's acclaimed Oxnard LP, also marks the final chapter of .Paak's beach-themed trilogy of albums.
Something the 33-year-old has been pondering is "what comes after the wave." Today feels like the calm before yet another storm, as .Paak is in the midst of mentally preparing to tour, while also gearing up for his three-part benefit concert series with Modelo. Through a partnership with the International Rescue Committee, proceeds from the shows will go toward relief funds for underprivileged refugees, immigrants and U.S. citizens.
Ahead of his and Modelo's New York City stop on November 17, BET spoke with .Paak about collaborating in the studio with Dr. Dre, and his one wish for the 2020 Grammys.
This interview has been edited and condensed for clarity.
How did this opportunity with iHeart Radio and Modelo come about?

When I heard about it, I immediately thought about when I came to Los Angeles trying to make it in the music business. It wouldn't have been possible without the help I got from my close friends and them making their resources available to me. Even just a roof over my head, a couch, studio, car, babysitter, you know? All those things I needed help with to build the bridge to the next step. Without that, I don't know if I would've had a fighting chance. And when I found out Modelo was getting behind something like that, I was all for it. 

You've had such a huge impact in a relatively short amount of time, and you just won a Grammy. Did you foresee all this coming so soon in your career?

Coming up, this is all I thought about. Rocking big shows and doing this for a living. A lot of what's happened has been beyond my wildest dreams, [from] some of the people that I've worked with to the things I've seen. But as I progress in my artistry, I get more ambitious. I feel like I want different things. The Grammy was one of those things that felt too far [out of reach] to fathom.

I used to sit down and visualize myself winning a Grammy, and I couldn't even do that. So many distractions would pop up in my head. So I thought it was crazy that when I actually did win a Grammy, I wasn't actually there to receive it. But the next one, I'mma be up there.

You released two albums in five months. How did you manage to pull that off?

I was thinking a lot about Oxnard and Ventura, and I wanted [them] to be good albums. I was also going through a lot. This was going to be my major label debut, and my first album, really, with Dre. I wanted everything to work perfectly and to go big, and to do something I never did before. I was aware that I probably wouldn't reach the expectations that people had after Malibu, which changed everything for us. We were able to tour off of that, and it had been two years since we put anything out. So I feel like there were these expectations that no one could really reach once you had that much time. Some people wanted Malibu 2.  And some people hadn't heard of me still, so I had to really just feed my need as an artist but also be smart about it.

I feel like I have to have some sort of balance. Oxnard was that album you listen to on the way to Vegas. Then I wanted to have Ventura for when you're coming back and need some peace of mind. That's what that was. We went back and forth with the label about whether we wanted to drop both at the same time. But then Dre dropped two albums at the same time and I was like, "Nah, f**k that." Then I was like, we'll hold it and drop the other one around Coachella. It was kind of early in the year, too. Oxnard dropped last year, and I wanted to have something to follow. I feel like you kind of have to. If you have the creativity and the music, there's no reason to hoard it.

Ventura is the last album in your beach series. What are you looking at delving into next?

What comes after the wave.

What does that mean for you?

I don't want to give too much away, [but] usually you get caught up in the white wash, you know? A lot of people, they get caught in the white wash and almost drown. They live, but they don't get back out and paddle. They just choose to sit out. You kind of have to get back out and paddle and catch another [wave], because you're going to be scared forever if you don't.

You've worked closely with both Dr. Dre and Flying Lotus. What have you learned from being in the studio with people like them?

Those are two totally different approaches. Every producer, artist, writer, musician—they all have their personalities. With drummers for instance, a lot of them drum the same way as their personality, and I feel like a lot of producers are the same way. So with Dre, he's got this real exclusive vibe. Everything is very calculated. Everything is supposed to be special and momentous, and big and in a certain way. Prestigious. I have elements of that, too, but I also have a lot of spontaneity and improvisation. I think he sees that, and sometimes it's frustrating for him.

But sometimes he's inspired by it, and I feel the same way about working with him as a producer. There's that kind of tension—a push and pull—in what he thinks I should do. And then we come together and make some incredible music. Same thing with my band, The Free Nationals. Sometimes we don't want to talk to each other. Sometimes we hate each other. But if we can just manage to get in the same room and make some music, all that energy comes together and then that's worth it. I just learn how to be patient and open.

Was there a point in the recording process with Dre where you two didn't see eye to eye on something, but then you took his advice or his idea and it turned out better than you thought it would?

No, that's never happened to me. [Laughs] There's only been a couple of instances where I was adamant on one thing I wanted to do and he was like, "Trust me." And I was like, "Alright, f**ck it, let's do it."  

Not to say it did not work out, but it wasn't necessarily the big hit that everybody thought it was going to be. But I've been the same way. When it comes to singles and stuff like that, I'm the worst. What I think is going to be "the one" usually is not "the one." That's how it always is. You never know until you try something. 

Nine times out of 10, [Dre] states his opinion and is letting me know stuff, but he's like, "AP, it's your call. This is your career. If it goes good, it's your fault. If it goes bad, it's your fault." So I'm always taking heed to everything he's saying, but the biggest thing I've learned from him is to trust my gut.