Charlie Sheen's Former Lovers Have a Plan to Keep the Checks Coming
The actor is bracing for epic lawsuits.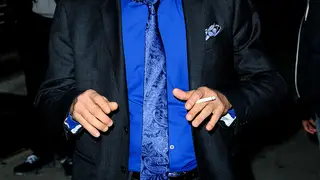 Charlie Sheen may have thought that coming clean about his HIV diagnosis would get the vultures off his back, but he has another thing coming. The actor, who admitted to paying out over $10 million to former lovers and other confidantes to keep his diagnosis a secret for four years, told Matt Lauer earlier this week that part of his motivation for going public was so he wouldn't have to keep paying for silence.
Think again, Charlie. Not only is the actor getting multiple lawsuits from lovers who claim he never told them about his HIV status and then engaged in unprotected sex, the parties currently on his payroll are threatening to sue if the checks stop coming. According to TMZ, lawyers for the former sexual partners say there was no shakedown, but rather a legally binding and totally legit arrangement to pay a fixed sum in monthly installments. The lawyers also say the women are victims and not extortionists.
What's more, a clause in the contract states that if Charlie misses a payment, then the entire lump sum is due at once. That means the former Two and a Half Men star can't stop the gravy train while he fights his exes in court. 
Thank God for royalty checks.

This is sure to be the beginning of a long — and potentially scandalous — journey for Sheen. Watch Wendy Williams's recap of the big news, below:
BET.com is your No. 1 source for Black celebrity news, photos, exclusive videos and all the latest in the world of hip hop and R&B music.