Tyler The Creator Defends Drake After He Was Booed Off Stage At Camp Flog Gnaw
Drake is taking the incident in stride, according to DJ Akademiks.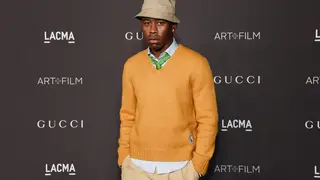 Sunday night (Nov. 10), Drake was booed off the stage at Tyler's annual Camp Flog Gnaw festival over fan's frustrations that Frank Ocean was not the headlining act as they'd anticipated. The incident quickly went viral across social media after clips of Drake exiting the stage as fans showered him in a loud chorus of "boos" spread online. It didn't take long for Tyler to address the situation himself.

Taking to Twitter on Monday (Nov. 11), the IGOR rapper let his fans have it as he unleashed a fiery rebuke in a flurry of tweets. Although Tyler admits bringing Drake out as a surprise headliner for an indie music festival was a "[little] tone deaf," the Californian still felt that that didn't excuse fans' entitled behavior toward the Toronto rap star. 

"Some created a narrative in their head and acted out like a**holes when it didn't come true, and I don't f**k with that," Tyler penned in all caps. "Y'all represented me and flog to my guest and made us look so entitled and trash. That s**t was like mob mentality and cancel culture in real life and I think that s**t is f**king trash."

He continued, "[Drake] really did that for me and I appreciate it because he did not have to come at all. [To] see our worlds come together was so great in theory but hey man s**t happens."

"All jokes aside, s**t [was] lowkey funny hahaha," Tyler concluded on a positive note, although his Twitter bio has since been changed to read, "embarrassed by fans right now."

Drake also allegedly responded to the incident. Everyday Struggle co-host DJ Akademiks tweeted that the 6 God personally reached out to let him know he wasn't bothered by the way Sunday night went down. Ak said the Scorpion rapper told him he's taking it all in stride and he recognizes last night "was just not [his] night" as he "wasn't who they wanted to see."

Read Tyler the Creator's full response to his fans booing Drake off the stage last night at Camp Flog Gnaw below.