This Black Woman Made An App That Tells You Which McDonald's Ice Cream Machines Are Broken
Genius!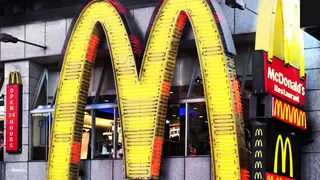 McDonald's soft serve machines can be very unreliable, especially when you're craving your fav M&M McFlurry. And we all know nothing is more frustrating than making the trip there and the machine not working. But this is what we've all been waiting for: this app is going to save us.
Raina McLeod designed the app, called Ice Check, available for iOS devices, which will tell you in real-time whether or not McDonald's machines are working near your location. The tech guru created the app after an unsatisified experience she had at Micky D's. She definitely used her #BlackGirlMagic for this creation, to say the least.
"I came up with the idea for the app around a year ago, after a late night Oreo McFlurry craving went unfulfilled due to the ice cream machine being down," McLeod told Buzzfeed.
The free app tells the user, on a map, which McDonald's locations have machines that are working, and it also provides you with updates. 
So no more empty trips to McDonald's. Just check the app before getting your McDonald's soft serve ice cream or McFlurry!