Why Jackson, Miss., Has The Fastest Shrinking Population Across The U.S.
From the city's water crisis to high homicide rate, residents face several problems.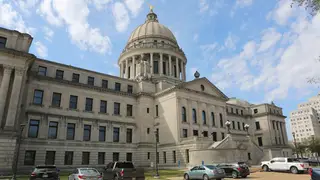 A few challenging issues combine to frustrate Jackson residents and could be the reason why Mississippi's capital has become the fastest-shrinking city in the nation.
The Clarion Ledger reports that newly released U.S. Census Bureau data, which offers a snapshot of local populations nationally from July 2021 to July 2022, counted 145,995 Jackson residents. That figure represents a decline of 3,766 people living in Mississippi's capital. The 2.5 percent drop makes Jackson the fastest-shrinking city in America with at least 50,000 residents.
Previous Census data showed that Jackson's population is 83 percent Black, and 26 percent of residents live in poverty. White flight from the city to the suburbs started in 1970 when school integration was mandated, causing an erosion of Jackson's tax base.
Many point to Jackson's constant drinking water crisis as one of the main reasons that residents are fleeing the city.
Jackson mayor Chokwe Antar Lumumba has stated that long-overdue maintenance and short staffing have plagued the city's water system, which was overwhelmed by flooding from heavy rainfall last August that changed the chemical composition needed for treatment. Residents were already under a boil-water advisory when damage to an already decrepit water treatment plant caused the water pressure to fall so low that people couldn't bathe, cook or flush toilets. The water crisis dragged on for weeks.
Less than a year after the water crisis, a dispute between Lumumba and city council members over a garbage collection contract reached a point where trash collection abruptly ended in April, causing a public health crisis. Residents went without trash pickup for more than a month before a new temporary contract was put into place.
Jackson also has a high homicide rate. By the end of 2021, there were 160 reported killings, 101.9 homicides per 100,000 residents, giving Jackson the highest per capita homicide rate of any major city in the nation, according to local station WLBT.
But Jeff Rent, president and CEO of the Greater Jackson Chamber Partnership, told the Clarion Ledger that better days are ahead.
"Fixing the water will help heal some of the frustrations. We continue to pave roads through the 1% sales tax, and we are recruiting new and exciting companies to the area," Rent said, adding, "So, there are some things going on that can help make this trend turn around."