Jackson, Mississippi In Crisis As Water System Failure Cuts Off Drinking Water Supply
Mayor Chokwe Antar Lumumba says conditions have improved in the majority Black city.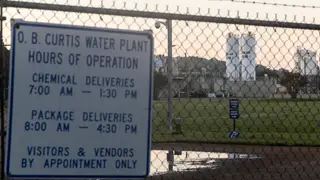 Many residents of Jackson, Miss. face another day without safe drinking water at home, as the state scrambles to fix a persistent water crisis in its capital city.
The Associated Press reports that parts of Jackson had no running water on Tuesday (Aug. 30) because flooding worsened longstanding problems at one of two water-treatment plants. Low water pressure made it impossible for some people to shower or flush toilets. Officials warned those who did have water should boil it for safety.
Gov. Tate Reeves declared a state of emergency Monday (Aug. 29) for the city's water system. State officials were expected to hire contractors to repair the water treatment plant, which was previously operating with faulty main pumps.
Jackson mayor Chokwe Antar Lumumba stated that long-overdue maintenance and short staffing has plagued the city's water system, which was overwhelmed by flooding from heavy rainfall that changed the chemical composition needed for treatment.
The Mississippi Free Press reports that the mayor said on Tuesday that water pressure improved overnight for some residents.
"There are individuals who did not have water pressure at all yesterday in which water pressure has returned, and the reports of the tanks is that there are steady gains being achieved each and every day," he stated at a news conference.
"In the middle of peak consumption, which is during the daytime hours, we've maintained steady (pressure)," he added. "At night is a moment that we look to have the greatest amount of recovery."
According to the AP, Reeves, a Republican, didn't invite Jackson's Democratic mayor to his Monday night news conference. Still, Lumumba said his discussions with the governor about the water crisis have been productive.

However, video has surfaced online showing a large water tank parked outside of the governor's mansion. Although it is unconfirmed that it is specifically for Reeves, social media posts have emerged criticizing him.
Mississippi politics is sharply divided along party lines and race, according to Politico. This heavily red state is a conservative stronghold in which Republicans are almost exclusively white and Black voters are Democrats.
Jackson's population is about 83% Black, according to the U.S. Census Bureau. For decades, city officials couldn't afford to make timely repairs to the water system as the tax base eroded from white flight to the suburbs when public school integration started in 1970, the AP explained. About 25% of the current residents live in poverty. Lumumba estimated that it will cost billions to fix the system.
Meanwhile, Reeves said Monday that he is "sending a request for a federally declared disaster to support state and city emergencies," the Free Press reports.
Mississippi Rep. Bennie Thompson said, "My office will work as requested to facilitate additional resources from the federal government as well as disaster relief and humanitarian organizations."
On Tuesday, the Biden administration said the federal government is prepared to assist Mississippi. The president approved an emergency declaration from state officials. At that time, the state had not asked for FEMA to help truck in drinking water, White House press secretary Karine Jean-Pierre told reporters.