OPINION: Juneteenth And The Ongoing Fight For Reparations
Here are five ways you can work towards rebuilding a society where both Black lives and justice matter.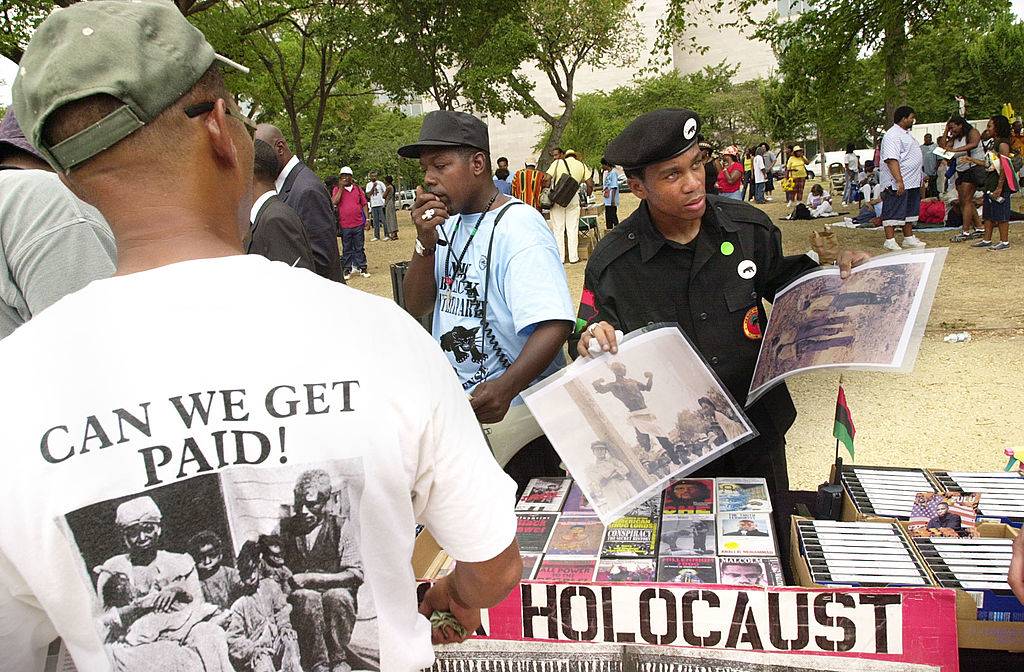 Juneteenth is a time when we will celebrate our Black joy, uplift our Black activism and continue our fight for Black liberation and reparations. In recent years, Juneteenth has been celebrated by companies giving employees time off from work — but Juneteenth is so much more than just a day off. We must use this time to confront modern-day decisions, policies, and practices that continue to block economic growth and justice for Black communities. 
Reparative justice is more than just acknowledging past harm done. We're demanding reparations, not just for the injustices that happened decades ago, but for the injustices that continue to harm our communities today in 2021. One-hundred years after the Tulsa race massacre, and it's only from the work of our members and Justice for Greenwood that we are just now seeing the three remaining survivors receive economic gifts after nearly a century of inaction from the city of Tulsa. 
If anything, Tulsa reminds us that reconciling our nation's past isn't a moment in history — we're witnessing justice in the present day. And as the nation continues to miss critical moments of reckoning and opportunities to restore justice, we must remind them: we cannot wait. 
Reparations is one of the strongest ways to truly move our nation toward equity and justice; yet for far too long, the knee-jerk reaction from elected leaders, companies and institutions has been to issue a statement of support, donate to a racial justice organization and then move on. 
This is no longer going to cut it — our communities are demanding more. This Juneteenth, we are asking you to stand with us as we call on elected officials to pass H.R. 40 in order to reimagine and rebuild a society in which Black lives and justice truly matter. 
Here's how you can truly become a part of the solution:
Call Your Local Elected Official About H.R. 40

Justice cannot wait! Tell your representative to cosponsor H.R. 40! In April, the House Judiciary Committee held a hearing and voted to advance, study and develop Reparation Proposals for African-Americans Act. As H.R. 40 was first introduced over 30 years ago, we will not allow the hearing to be the end of the conversation, or for justice to be held off any longer. Please join us in telling your representatives to cosponsor H.R. 40.

Stand Up For the bruce family

Register to attend our Juneteenth Celebration: Justice for Bruce's Beach. Los Angeles County is trying to give the land back to the Bruce family, a Black family who was pushed off Bruces Beach a century ago by Manhattan Beach. Bruces Beach was one of the most prominent Black-owned resorts by the sea and popular with Black beachgoers. Color of Change is gathering to celebrate the successes we've had and the action we need to take to seek the restoration of Bruce's Beach land back to the Bruce Family. Please register to attend our Juneteenth Celebration in solidarity with our fight for Justice for the Bruce Family. 

Can't Attend? Send a letter

Tell the California Senate it's time to return Bruce's Beach to its rightful owners. Just recently, the L.A. County Board of Supervisors unanimously passed two motions seeking to return Bruce's Beach to the Bruce family. But, they cannot officially return the land until the state bill SB 796 is passed in the California Senate. Help the Bruce family by sending a letter to your Senator urging them to support SB 796 and return the Bruce family's land! 

Celebrate Black Wall Street

Join Color Of Change As We Celebrate Black Wall Street. The Black towns that housed thriving Black businesses, banks, services, and homes became known as Black Wall Street. These banks and businesses were safe havens for Black people to meet their economic needs and financial goals. Join us as we celebrate Black Wall Street and call for Congress to grant reparations our communities are owed.

Write the White House

Tell President Biden to advance racial equity by elimating student loan debt for good! Biden continues to seemingly ignore the urgency of student loan debt forgiveness and ultimately, advocating against true racial justice. The government owns 90% of student debt and has the ability to ensure that higher education is both affordable and accessible to Black people. Please write a letter to the Biden Administration and express your support for the elimination of student loan debt.

It is time for our country to take this long-awaited step towards equitable prosperity. That means demanding those in power to move beyond words, create effective plans and take the necessary actions to restore justice to Black communities. 

Color Of Change is the nation's largest online racial justice organization. We help people respond effectively to injustice in the world around us. As a national online force driven by over 7 million members, we move decision-makers in corporations and governments to create a more human and less hostile world for Black people in America.Visit www.colorofchange.org