Commentary: Remembering My Brother Who Lived Fearlessly
BET correspondent Jonathan P. Hicks died on Monday at 58.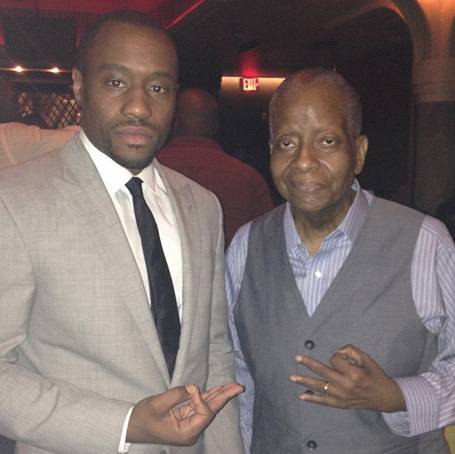 BET lost a treasured family member. Jonathan P. Hicks, senior national correspondent for BET.com, passed away at age 58 after a long battle with pancreatic cancer.
Jonathan was more than a colleague, award-winning journalist and philanthropist. To me, he was a mentor, friend, fraternity brother and hero.
Years before I met Jonathan, I knew him from his work as a writer for the New York Times. Through his pieces on local and national politics, Jonathan modeled a professional and moral commitment to spotlighting the faces and amplifying the voices of the vulnerable. Unlike many successful Blacks, Jonathan was never satisfied with merely "being in the room." He understood and humbly accepted his duty to represent for those who could never access the spaces he occupied.
Although he was celebrated in mainstream circles, Jonathan always understood the value of supporting Black institutions. After leaving the Times, he immediately began working as a fellow at the Dubois Bunche Center for Public Policy at Medgar Evers College, a minority-serving institution in Brooklyn, New York. He also wrote weekly columns for the Amsterdam News and served as a senior correspondent for BET.com. In 2010, he started the JP Hicks Family Mass Communication Scholarship to support journalism majors in Liberia. He never stopped being an active member of his beloved Kappa Alpha Psi Fraternity. In all aspects of his life, Jonathan showed his love not only through words, but through consistent action.
But Jonathan's commitment to the community extended beyond the jobs he took or the money he donated. Instead, he offered his time and talents to teach, support and mentor younger generations. He often reminded me, "None of this work that we do matters if we don't pass it on to somebody." More than anyone I've ever met, Jonathan lived the truth of those words every single day of his life.
Jonathan was the consummate Renaissance man. From singing to photography to appearances in major Hollywood films, he was always finding ways to learn, create and grow. He was always willing to engage new ideas, travel to different places and nurture untapped talents. He lived life fearlessly.
A few years ago, Jonathan was diagnosed with terminal cancer. Instead of sulking, panicking or retreating, he chose to double down on his commitment to living. He wrote more columns. He organized more programs. He mentored more people. He stared death in the face with such temerity that many of us began to believe he would somehow defeat the inevitable. If anyone could, it would have been him.
I will miss many things about Jonathan. His laugh. His kindness. His advice. His intellect. His voice. But, most of all, I will miss his example. He showed us how beautiful life can be when we commit to living it with courage and dignity. He showed us that love is best expressed through action not words. He showed us how to live a life worth remembering.
Marc Lamont Hill is a BET News correspondent.
The opinions expressed here do not necessarily reflect those of BET Networks.

Watch Kevin Hart in a new episode of Real Husbands of Hollywood every Tuesday, 10P/9C.
BET National News - Keep up to date with breaking news stories from around the nation, including headlines from the hip hop and entertainment world. Click here to subscribe to our newsletter. 

(Photo: Marc Lamont Hill via Instagram)