50 Cent Has No Idea Why Vivica Fox Is Still Thinking About Him
The actress made waves last week for implying her ex is gay.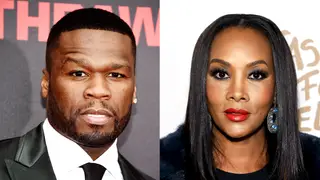 Vivica A. Fox made waves last week when she decided to spill the tea about her ex 50 Cent on Watch What Happens Live. Asked how she felt about Fif's recent comments that Empire has "too much gay stuff," Viv responded by telling host Andy Cohen that she thinks it's a matter of the pot calling the kettle black. "He just seems like he's got something that's not quite clear," she said at the time, also referring to her ex as a "booty snatcher." 
Now, the comments have left 50 wondering why Fox is still talking about him years after they split. "We haven't been together for years. No idea why she's still thinking about me and talking about me all the time," he tells the New York Daily News.
Indeed, it's not the first time the rapper-entrepreneur has been confused by Fox's interpretation of their relationship. When the actress told Meredith Vieira that he was the love of her life, he responding by saying, "When I heard that, I was like, woah, wait a minute. I was pretty surprised, but I didn't say anything. I had one love of my life, my Grandma. Not Vivica. That's it."
Like we said before, a bitter ex may not be the most reliable source for this kind of gossip and 50 has not taken it in stride. A day after Vivica made the allegations on live TV, he clapped back with a series of Instagram posts slamming his ex for everything from being jealous of Halle Berry to sexual misconduct.
Of course, 50 is the king of feuds, so we doubt it ends here. Watch Wendy Williams weigh in on the beef below:

(Photos from Left: Michael Loccisano/Getty Images, Jamie McCarthy/Getty Images For Fashion For Relief)